Estimated read time: 4-5 minutes
This archived news story is available only for your personal, non-commercial use. Information in the story may be outdated or superseded by additional information. Reading or replaying the story in its archived form does not constitute a republication of the story.
SALT LAKE CITY -- Signs of significant progress are starting to show for Utah's largest-ever development project. Tuesday, downtown's City Creek Center officially opened up its food court.
The five-year project is now nearing the home stretch. Metaphorically, it's well past the half-way point for this construction marathon.
Tuesday morning, City Creek Reserve, the master developer of the City Creek project, held a press conference to give an update on the five-year long effort.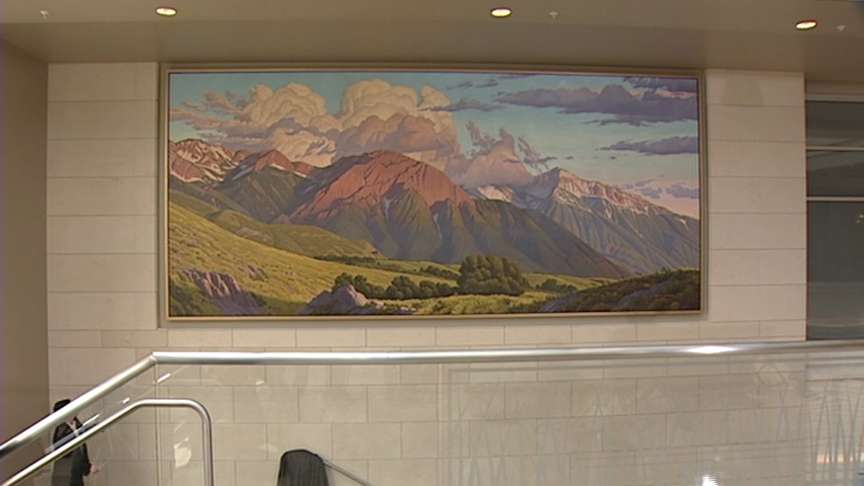 It showed off the new Food Court -- next to the KeyBank building -- which is now open for business.
A mix of national chains, like Sbarro and McDonald's, and local franchises like the Red Iguana and Roxberry make up the list of new tenants. The food court will include 1,000 seats indoors, plus 200 outdoors.
The developer is opening this first in part to help accommodate the 5,000 people who work in nearby office buildings.
City Creek vendors
• Chang Chung
• Great Steak
• McDonald's
• Sbarro
• Suki Hana
Opening Spring 2010
• Bocata
• Roxberry
• Subway
• Red Iguana
Ron Loch, vice president of planning and design for Taubman Center, Inc., said, "It was a very high priority, and in addition to that, as great as the food court is, it's only going to get better with time. We're going to expand it. There [are] going to be more amenities like a children's play area surrounded by soft seating."
A large new oil painting by Utah artist David Meikle called "Wasatch Grandeur" was unveiled at the press conference. The mural will adorn the walls of the food court.
City Creek project
• 700 residential units
• 1.6 million sq ft office space
• Anchors: Nordstrom, Macy's
• 900,000 sq ft retail and restaurant space
• 5,000 underground parking stalls
• Food court
• 70,000 sq ft grocery store
• Creek feature with living ecosystem
• 510 room Marriott Hotel

Like City Creek Center, the painting has long been a work in progress for the artist. "This is based on quite a few trips to a certain area that I went to, and I gathered a lot of research material and then developed some sketches and compositions and had that approved. And so going into the painting, I knew exactly what I wanted to do," Meikle said.
With its main entrance at 28 S. State St, the City Creek Center Food Court sits just around the corner from the site of the former ZCMI Center Food Court. New entrances are open at State Street and through neighboring office buildings, Eagle Gate Tower and KeyBank Tower. An additional entrance is planned from the west and will be highlighted by an 18-foot waterfall.
"Given the complexity of the schedule, this entire development won't open until March 2012. This was on the critical path, so we managed to find a way to phase this in early," said Loch.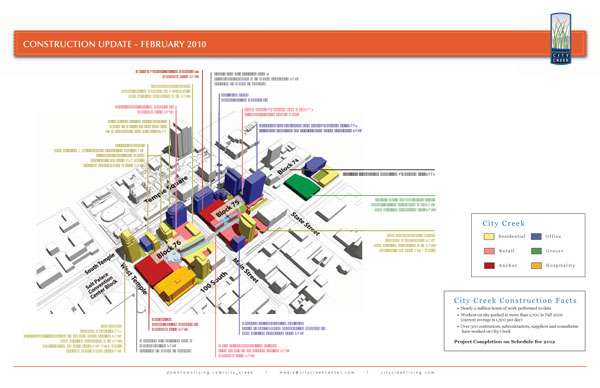 "Truly, this has been a Herculean effort to get to this point where we are at today," said Mark Gibbons, president of City Creek Reserve, Inc. "It's been a real marathon, and today ladies and gentlemen, I'm pleased to tell you that we're now passing the 20-mile mark of this marathon."

**City Creek**

• 700 residential units • 1.6 million sq ft office space • Anchors: Nordstrom, Macy's • 900,000 sq ft retail and restaurant space • 5,000 underground parking stalls • Food court • 70,000 sq ft grocery store • Creek feature with living ecosystem • 510 room Marriott Hotel

He does not see the food court as any kind of test of the project's viability. Gibbons said, "The city needs to have City Creek Center and the Gateway both to be as vibrant as it is, so we've sized this right for the demand." Coker believes when the project is completed, it will be a big deal.

"Between this and the airport TRAX line and the sense of it being a destination city that really has some great places to go and some real valuable experiences, I think it's going to take it up to an international level."

This marks the first of many milestones the project will see soon. In the coming weeks and months, a bridge across Main Street will be installed, condo towers will open, parking is coming on line and construction will begin on a Harmon's grocery store. City Creek will even boast an innovative retractable glass skylight.

"City Creek Center, when completed in March of 2012, will be a one-of-a-kind development in a unique downtown environment in Salt Lake that's literally a live, work and show environment," said Loch.

The grand opening for the entire project will coincide with the opening of retail stores, including anchors like Nordstrom and Macy's.

------

Story compiled with contributions from John Daley and Marc Giauque.

×
Photos
Related links
Related stories
Most recent Utah stories