Estimated read time: 3-4 minutes
This archived news story is available only for your personal, non-commercial use. Information in the story may be outdated or superseded by additional information. Reading or replaying the story in its archived form does not constitute a republication of the story.
Gene Kennedy & John Daley ReportingThe pre-presidential parade heats up here in Utah. The red state's favorite, Mitt Romney, visited last week. Today it's John McCain's turn.
The presidential candidates are getting started well in advance of the primary, which is next February. But as they say, it's never too early for face time.
Matthew Burbank, Dept. of Political Science, University of Utah: "They're trying to expand their fundraising, and they're trying to make their presence known."
Polls show Mitt Romney as the favorite in red-state Utah. But nationwide he trails Rudolph Giuliani and John McCain for the GOP nomination.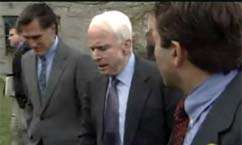 In 2002 McCain and Romney were allies. McCain supported Romney's run for governor, and at that time he talked with Eyewitness News about appealing to independents.
Sen. John McCain, (R) Arizona, October 2002: "In my home state of Arizona the biggest rise in voter registration is independent, because neither party has moved to the center of the political spectrum because they're bound by the special interest."
Reporter: "So you both have to hope that they are less dissatisfied with the Republicans than the Democrats?"
Mitt Romney, October 2002: "That's right. That's the vision we're able to portray is one that resonates with all parties."
Now they're trying to portray a vision of who will best serve this country as president.
McCain has been visiting with Governor Jon Hunstman since arriving in Utah this morning.
Sen. John McCain (R) Presidential Candidate: "I think this candidate is about portrayal of vision and ideas and proposals that Americans feel will meet the challenges of the future. I believe Governor Romney is a fine person, a fine governor. Mayor Giuliani is an American hero. Republicans have some good choices this time and I believe that I'll be able to convince the American people that I can make sure that the 21st century is the American Century."
Gov. Jon Huntsman "Ethics, there's not another leader who stands taller on ethics than John McCain. Two, transcending the political divide. Like never before in Washington we need somebody who can transcend the political divide. Number three, I think he has an unparallel world view when it comes to those who are either being talked about or are in the race for the presidency. He understands the world, he understand how to put the pieces back together again."
A key issue for McCain is the war in Iraq. He and most other GOP candidates support the President's plan to add more troops there.
John McCain (R), Candidate for President: "I hope that a vote for me is a vote for the men and women who are serving and the new strategy and the new general that we have in Iraq, which is beginning to show some signs of success although it's going to be very long and hard and difficult and it is a vote that we will understand that if we have to leave it's going to lead chaos and genocide and these people will follow us home."
Romney's visit, as well as McCain's today, is evidence the governor says that moving the primary up to February is paying dividends.
Gov. Jon Huntsman: "We're already seeing very serious candidates venture into our state. Not only because Utah is Utah and very important in its own right but it really is the political and economic center for a whole lot of the intermountain west and we're beginning to see it take shape and form politically and that's a very encouraging thing."
Huntsman says he's supporting McCain rather than Romney, who his father, industrialist Jon Huntsman supports, because he believes in his ethics, his ability to bring people together and his quote "unparallel worldview."
Today's visit is all about raising money. McCain will attend a fundraising event with national CEOs at Deer Valley. Tomorrow he meets with local leaders at the Grand America Hotel.
×
Most recent Utah stories