Estimated read time: 3-4 minutes
This archived news story is available only for your personal, non-commercial use. Information in the story may be outdated or superseded by additional information. Reading or replaying the story in its archived form does not constitute a republication of the story.
PERRY -- Investigators are trying to determine the identity of a body found burning close to Interstate 15 in the Box Elder County city of Perry.
Police believe the body is that of a woman between the age of 40 and 55, and her dramatic death is the result of a suicide.
Body discovered by UHP troopers Monday night
A passerby called authorities at 6:20 Monday evening to report a fire near 1100 South and 1400 West, which is close to the Perry/Brigham City exit of I-15. Utah Highway Patrol troopers went to check it out and found a smoldering body.
---
That's not a sight that anybody should have to experience.
–Perry Police Chief Mike Jones
---
"To walk up to that body and take a look at it, there's just no way to determine if it was male or female," said Perry City Police Chief Mike Jones.
But Jones said paperwork suggests the person was a middle-aged woman.
"There are some papers lying around the body that had a female's name on it," he said. "There's no identification that shows a face, but we ran the name and there is a connection with a shelter in Ogden."
Investigators believe the woman had been staying under a railroad overpass about 100 feet away.
"When we went down there last night," Jones said. "There's quite the camp site set up. There's a bed, food storage set up on the high beam of the overpass."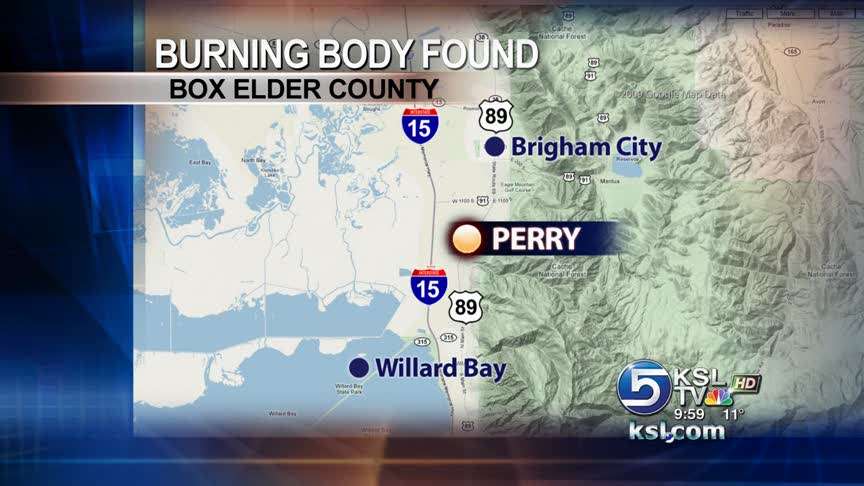 Witnesses told police the saw a woman walking in the area around 5 p.m. Monday.
"She was by herself, carrying some bags, walking off into the weeds, into the brush, which indicates that she was by herself and more likely a transient," Jones said.
The chief also said it appears the woman poured some sort of flammable liquid on her body before lighting herself on fire. Evidence of the liquid was found next to her, as well as a cigarette lighter.
"There is nothing suspicious at the scene," Jones said. "There is only one set of shoe tracks and that matches up with the shoe pattern that was on the body, so there were no other shoe tracks at all. There were no tread marks, no vehicle, nothing else. Everything was pretty much situated at the scene."
3 similar deaths happened earlier this year
This case is strangely similar to three deaths earlier this year. Last March, a car fire killed a person in Big Cottonwood Canyon. Investigators ruled it a suicide.
A couple weeks later, officers were called out to another car fire near Saltair. The Salt Lake County Sheriff's Office ruled that as a suicide too.
In April, the body of a University of Utah student was found in a burned-out car in Washington County. Investigators say there was no sign of foul play.
The Salt Lake County Sheriff's Office investigated two of the cases. Spokesman Don Hutson said it's rare to have this many deaths of this kind.
"Certainly not common at all, and I don't think it would be the preferred method," Hutson said. "But it certainly makes a statement, something to the fact that they are trying to say something about their life or the way that they take their life."
The state medical examiner is performing an autopsy on the body found in Perry. Police said they're hopeful the results will provide more information in the case.
------
Story compiled with contributions from Shara Park and Anne Forester.
×
Photos
Related stories
Most recent Utah stories