Estimated read time: 4-5 minutes
This archived news story is available only for your personal, non-commercial use. Information in the story may be outdated or superseded by additional information. Reading or replaying the story in its archived form does not constitute a republication of the story.
Gene Kennedy Reporting A severe car accident nearly three years ago forever changed the Sorensen family in Herriman.
If you spend any time with the Sorensens, you can tell they have amazing resilience. That ability to bounce back is what keeps them going today. It was put to the test in June 2004.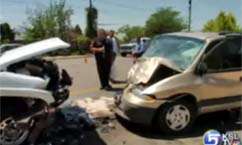 The gold minivan on the right used to belong to Lisa Sorensen.
Lisa Sorensen, Kyle's Mom: "I don't know exactly what happened. I just went unconscious."
Nearly three years ago, she was driving on Foothill Boulevard in Salt Lake City. Her blackout led to a head-on crash.
Lisa Sorensen, Kyle's Mom: "Next thing I know, I woke up, and they were cutting us out of the vehicle."
She and her two boys were trapped.
"They told me that Ashton was OK, that he'd be going home the next day. Kyle, they just kept saying, 'He's OK.'"
It was much worse than OK.
"I was devastated. It was really hard when I got that phone call."
Kyle was not waking up.
Gary Sorensen, Kyle's Dad: "He was in a coma for three days and lucky he even made it."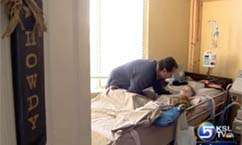 But when the eight-year-old boy woke up, life suddenly stood still, literally. Kyle's paralyzed from the neck down. He suffered a spinal-cord injury in the crash, just days after his eighth birthday.
"We had just gotten him a new bike, and he wouldn't be able to ride his new bike ever again."
Unable to walk again, and unable to breathe on his own, Kyle uses a ventilator 24/7. Parenting has changed. Being a child isn't the same. There's so much Kyle misses.
"Walking, riding my bike."
But he's quick to point out just being alive is a miracle. Kyle had no pulse in the moments after the accident, but a nurse happened to be driving behind his mother and revived Kyle right on the street.
Kyle Sorensen: "He jumped out and did CPR. He brought me back to life."
"We're just grateful he's still with us and able to do what he can."
Three years later, Kyle is still paralyzed. But his attitude is upbeat, his smile unmistakable and his progress impressive. Kyle has faced the odds and is doing his best to beat them.
Kyle's wheelchair may hold him back physically, but that doesn't stop him from moving forward in life.
He goes to Cub Scouts. He goes to school full time. And he'll probably beat you in an aggressive game of chess. Getting to this point has taken determination, but not just for Kyle.
It can take sometimes two and a half hours to start his day. Kyle has to be bathed and dressed, all the while on a ventilator. But no matter the obstacles, wheelchair or weather, Kyle Sorensen is determined to get on with life.
This morning, it's off to Herriman Elementary.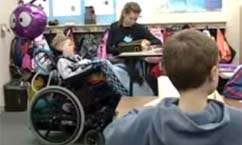 Principal Garth Anderson, Herriman Elementary: "He's been a champion. It was not easy for him to come back."
Kyle became paralyzed at the end of first grade. After the life-changing accident, he wondered if he could go back to a normal school setting.
Principal Garth Anderson, Herriman Elementary: "I think one, he was fearful of just the machinery."
But three years later, Kyle is learning right alongside all the other students... no special programs. And he knows his favorite subject.
Kyle: "Math."
A full-time nurse helps Kyle take notes. His classmates help, too.
Paynton Matthews, Kyle's Friend: "He's doing great in class and stuff. I don't think it's very hard for him."
Gene Kennedy, Eyewitness News: "He gets along pretty well?"
Paynton: "Yeah."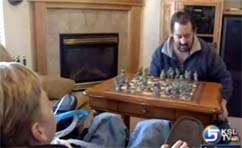 Outside school Kyle has found his own sport. In the hospital, when he was recovering from the accident, he taught himself to play chess, and he's passing on that knowledge to others.
Paynton Matthews, Kyle's Friend: "I'm not really that good at it. He's teaching me how to play a little."
Kyle Sorensen: "Yeah, I taught my dad how to play chess."
And many times, Kyle beats dad. But Gary Sorensen's ego isn't affected in the least. He's just happy his son is progressing in life against the odds.
Gary Sorensen, Kyle's Dad: "He's very accepting of it, which most people would not be. They'd rather not live. He's enjoying life to the fullest."
"He's always got a smile on his face."
Kyle is truly resilient, and so are his parents. You have to think they have faced so much. Just as it takes two and a half hours to get Kyle ready for school, it takes the same amount of time to get him ready for bed.
But no matter the challenge, they're so happy their son survived that crash and is still with them.
×
Most recent Utah stories