Estimated read time: 2-3 minutes
This archived news story is available only for your personal, non-commercial use. Information in the story may be outdated or superseded by additional information. Reading or replaying the story in its archived form does not constitute a republication of the story.
SALT LAKE CITY -- FAA investigators are continuing their examination of the plane crash that critically injured a Sandy man Wednesday. As they do, interesting statistics have come forward about the number of plane crashes caused by fuel exhaustion, meaning they simply ran out of gas.
Statistics from the National Transportation Safety Board show, in the past five years, there have been more than 200 plane crashes caused by the pilot running out of gas. In Wednesday's crash, pilot Mark Thorn, 52, of Sandy was critically injured. Another pilot heard Thorn say on the radio he was having a fuel problem.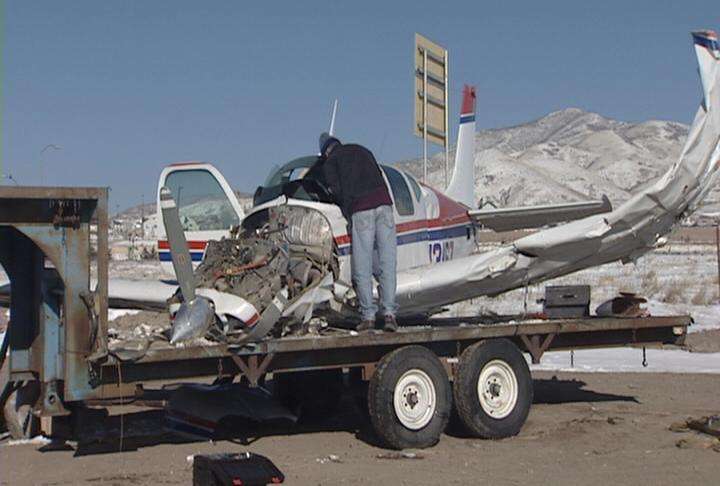 The NTSB did not elaborate on Thorn's problem, citing the ongoing investigation, and could not confirm or deny if Thorn ran out of fuel. A spokesman said there was fuel recovered at the scene but did not say the amount.
According to NTSB statistics, from 2004-2008 there were 245 general aviation accidents involving fuel exhaustion; 32 people were killed as a result. In that same time period, there were a total of more than 8,000 civilian plane accidents.
According to the Airplane Owner and Pilot Association (AOPA), the crashes involving low fuel are almost always avoidable.
"In some cases there might be an extenuating circumstance, but we think this is sometimes difficult to explain as to why you ran a perfectly good airplane out of fuel," says Bruce Landsberg, president of the AOPA Air Safety Foundation.
Landsberg says year to year the number of cases are down. He attributes that to education and technology.
"We have low-fuel warning lights, and we have range rings that show up on our moving map displays that say if you get beyond this point, you're cutting into your reserves," Landsberg says.
At Salt Lake Community College, flight checks and flight planning are essential parts of their professional pilot program.
"A student makes sure, while they're on the ground, before they take off, that they have enough fuel," says flight instructor Fiona Silcox.
Silcox says they also teach students about hazardous flying attitudes and the dangers of complacency.
"I guess I would be very surprised in respect to that many fuel exhaustion incidents out there, based on the training we give at Salt Lake Community College," she says.
As for Wednesday's crash in Lehi, there's no word on when the FAA may announce its findings.
E-mail: sdallof@ksl.com
×
Related stories
Most recent Utah stories