Estimated read time: 4-5 minutes
This archived news story is available only for your personal, non-commercial use. Information in the story may be outdated or superseded by additional information. Reading or replaying the story in its archived form does not constitute a republication of the story.
SALT LAKE CITY -- Fans who waited hours for an autograph from former Alaska governor and former vice presidential candidate Sarah Palin finally got what they were waiting for when she arrived in Salt Lake Tuesday afternoon for a scheduled book-signing.
The event took place at the Costco at 1818 S. 300 West as part of a nationwide tour organized to promote Palin's new book, "Going Rogue."
Palin's visit to Salt Lake notable for two things: the large crowd of admirers who came to get their book signed, and the highly-controlled setting at the Costco store where the event took place.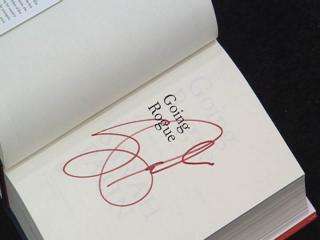 By 12:15 p.m., 550 people had joined the line to get their books signed; some had been there for hours. "She quite possibly could be the next president, so I just want to get a signature just in case," Dale Jenkins said. "She's a patriot. She's pro-American. She's just really positive about our country, and I really respect that."
Palin fans like Jenkins lined up in the cold starting Tuesday night. Costco opened its doors around 4 a.m. and allowed the crowd to wait inside in anticipation of Palin's arrival.
Palin snuck in a side entrance at the Salt Lake City Costco shortly before noon Wednesday for a book signing. Once inside, she sat down with her husband, Todd, at a table near the shelves where pots and pans are stacked and started signing copies of "Going Rogue."
A woman who has been told she looks like Palin was one of many admiring fans.
"She's a phenomenal lady. It was a pleasure to meet her, pleasure to see her," said Highland resident Leslie Heath. "I sat reading her book this morning; great story."
Midway resident Randy Hall went to get his copy signed too.
"I've read it previously and just thought it was awesome," he said. Brooke Smith, of Ogden, was among the more enthusiastic Palin fans.
"I shook her hand and I said, 'Sarah would you sign my red Republican running shoe?'" Smith said. "She smiled and said, 'I would love to.'"
Smith says she's been a longtime fan of Palin. "It would start with my personal love for Alaska," Smith said. "And I guess from there it would go to the inspiration she is to women, I think, everywhere, for the power that they can be."
Twelve-year-old Alyssa Wilson, attended the book signing because she wanted the opportunity to meet Palin and tell her she's her role model.
"I want to tell her that I look up to her in so many ways. I'm on my student council at my school, and one day I want to be governor of my state or president of the United States," Wilson said.
The event also drew one possible Republican candidate for U.S. Senate, attorney Mike Lee, and one current candidate for the same post, Cherily Eager.
"I'm here because Sarah Palin represents all that's great about conservative women," Eager said. "We don't have any conservative women in the U.S. Senate, and she's giving us an opportunity to have our voices be heard; and she's a great leader."
Palin's visit comes on the same day she locked horns with former Vice President Al Gore. The controversy is over an op-ed piece she wrote in the Washington Post Wednesday, in which she accused "leading climate experts" of manipulating global temperature data.
Gore fired back, saying the entire ice caps at the North Pole is disappearing. He said, "What do they think is happening?"
But with a large contingent of security on hand, there was no "going rogue" for the press, despite their desire to question Palin about the controversy.
Reporters and photographers were kept roughly 30 feet away, then ushered into a break room in the back of the building when Palin came in, and asked to leave after a half hour of so. Palin took no questions.
The 550 people who showed up at Wednesday's book signing was a far cry from number of fans who showed up at a Costco store in Tempe, Ariz., last week. There, 7,000 people were lined up to greet Palin when she arrived.
------
Story compiled with contributions from John Daley, Shara Park, Randall Jeppesen and Marc Giauque.
×
Photos
Related stories
Most recent Utah stories