Estimated read time: 2-3 minutes
This archived news story is available only for your personal, non-commercial use. Information in the story may be outdated or superseded by additional information. Reading or replaying the story in its archived form does not constitute a republication of the story.
SALT LAKE CITY - Employees at the Salt Lake City Costco say they expect fans of former U.S. vice presidential candidate and Alaska Gov. Sarah Palin will be lining up outside the store Tuesday night.
"We're excited to have here here, and we're excited to host the event," says store manager Kevin Campbell.
Palin will be at the store at 1818 S. 300 West on Wednesday between 12 noon and 3 p.m. She will be signing copies of her new book, "Going Rogue."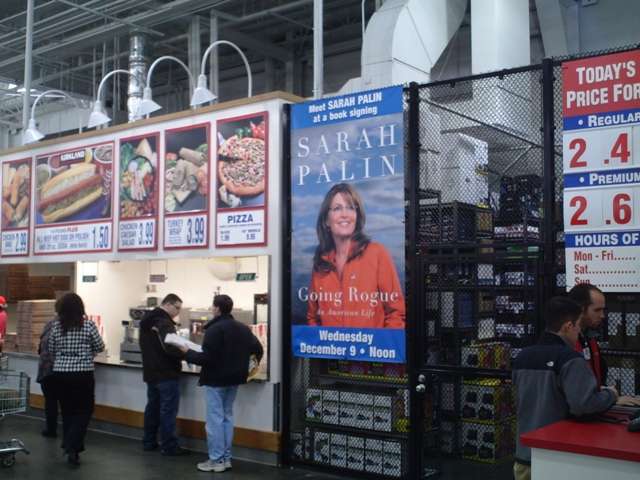 Campbell says the store will allow people to stay under the covered area at the front of the store Tuesday night, and they'll try to get some heat in there as well.
"We'll do our best to make them comfortable," Campbell says. "We will have people on site here tonight."
He says there will be porta potties for the crowd, and they're discussing making warm drinks and snacks available.
Costco normally opens its doors at 10 a.m. but will open earlier Wednesday to get people out of the cold.
When Palin visited a Costco in Tempe, Ariz., a week ago, close to 7,000 people showed up.
Only 1,000 tickets will be handed out for Salt Lake City's signing, though Palin is only guaranteeing about 500 signatures in the three hours she'll be there.
"I feel bad for people who may go and many not have a chance to get their book signed," says Dave Hansen, chairman of the Utah Republican Party.
Hansen says he's been trying to get Palin to do something for the party, but hasn't received a call back.
"It's a little disheartening," he says. "The Republicans are the ones who made her, and it would be nice if she was going to do something for us."
Still, Hansen says it's nice whenever a Republican star comes to Utah, though he feels it's still Mitt Romney's state.
"Mitt Romney is still the king out here, and I don't see that changing from a trip to Costco from one candidate," Hansen says.
To get into Wednesday's book signing, which will take place in the center of the store, you must have one of the 1,000 tickets that will be given out before the store opens Wednesday morning.
A Costco store membership is also required to get into the store.
------
Story compiled with contributions from Alex Cabrero and Randall Jeppesen.
×
Most recent Utah stories