Estimated read time: 4-5 minutes
This archived news story is available only for your personal, non-commercial use. Information in the story may be outdated or superseded by additional information. Reading or replaying the story in its archived form does not constitute a republication of the story.
SALT LAKE COUNTY -- According to many shoppers, it wouldn't be the holidays without some Black Friday shopping. Thousands camped out in the cold and stood in long lines to get their first pick at this season's hottest gifts.
Huge Black Friday crowds at Jordan Landing resulted in some reports of injuries and complaints of unfairness. Other shoppers were happy with what they bought after waking up in the early, dark, cold hours of the morning.
Shoppers leaving Walmart described the mayhem inside. "Some guy had a cut across his forehead. It was bad," said Weddeth Mihitawi of West Valley.
Judy Davis of West Jordan agreed. "It is absolutely crazy. Some people are getting smashed on the floor trying to get a $3 pair of pajamas. Are you kidding me?" she said.
Related:
But they said it was better this year because they were allowed inside to wait until the deals began instead of standing out in the cold.
Even the new method, however, came with craziness.
"The sounding gun went off about eight minutes early," said Bob Davis.
His son Mark Davis recounted his version of the mayhem. "You heard a gun? All I heard is someone go 'woooooo!' then it was like everybody started going 'that's mine!'" he said.
Mihitawi and her friend Alicia Oakenson got there at 3 a.m. "I would not come in later," said Oakenson.
Mihitawi added, "If you're there later you're screwed because people are standing over everything. It's not even good. It's just when you hear people screaming, that's when you grab everything."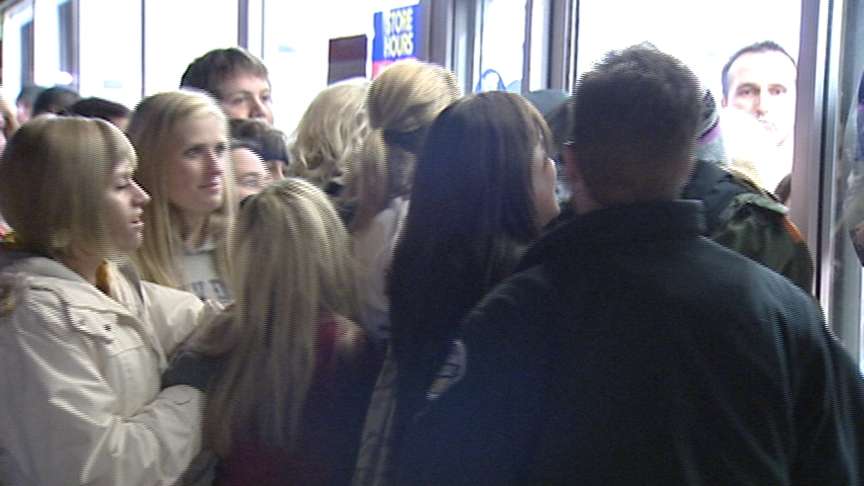 At the other stores, shoppers had to line up like usual. The lines at Target and Best Buy wrapped around several corners of the huge stores.
"This is a first time for us. We thought it would be fun," said Abby Bonney of South Jordan. She and her husband Stephen were looking for a hard drive and an electronic piano.
Megan Morton and Alyssa Hendricks came with their moms.
"I think that it had better definitely be worth it because this is a very long line," they said about standing outside at 4:45 a.m. in front of the Target.
They had already been to Kohl's and said some people weren't being very fair when that store opened at 4:00.
"People had a lot of stacks of the same thing in their arms," said Hendricks.
They were looking for iPod accessories and cameras at Target.
While some people were only going in for a few items, others were ready to keep going. "This is just the beginning. She's a professional shopper," said Davis about his wife.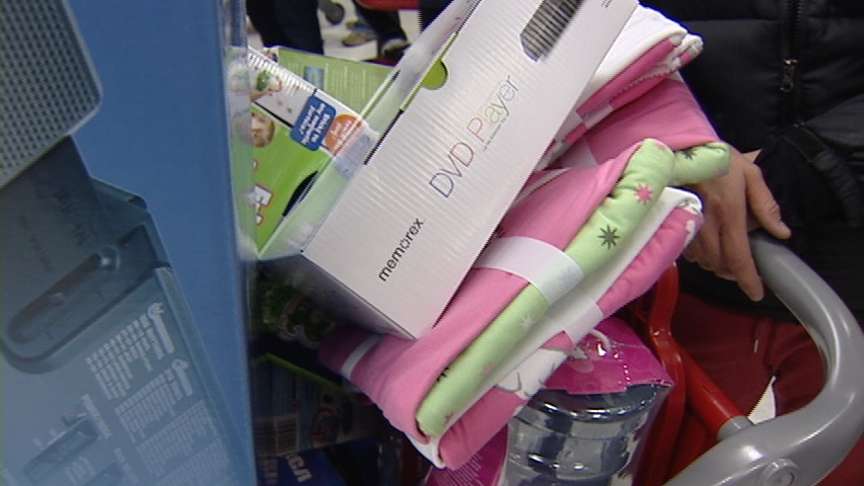 Over at the Fort Union Target store, crowds sprinted through the doors when they opened around 5 a.m.
Many shoppers were no strangers to this kind of mayhem.
One shopper said, "Probably 15 years or more. Every Black Friday my mom and I get up early, and we come and do this."
Most of the shoppers scurried to grab those hot-button holiday items that will make their family's Christmas dreams come true.
Shopper Gabriel Spencer said, "I just barely grabbed the last Xbox 360 for $299. It's like a really awesome deal."
Shopper Mindy Hughes checked some great items off her shopping list. "A keyboard and some portable DVD players, pajamas, oh, and a great vacuum," she said.
The store's manager, Jarrod Kermath, said shoppers looking to snag the best buys had to get there early.
"Most of the stuff in the store is 50 percent off right now. So we've got a bunch of people here trying to capture those deals," he said.
While things were fairly civilized at Target, shopper Kristen Millecan said that wasn't the case at Toys R Us store in Murray. Doors opened there at midnight.
"There was a mad rush, people got stuck in the doors, they couldn't get through," Millecan said. "We heard a worker got punched in the face by somebody. We heard another worker got her ponytail pulled. A little 7- year-old girl was supposedly kind of trampled a little bit."
Millecan said police were called in to regulate the crowd.
"We got called over here, I think, because the crowd got a little bit bigger then they had imagined," said Steve Sanderson with the Murray City Police Department.
Sanderson said he heard the same stories but said none were confirmed, and there were no official reports of injuries.
However, officers said the potential for danger is always there, especially on the biggest shopping day of the year. This year, Walmart kept most of its U.S. stores open 24 hours after the trampling death of a worker last year.
For those who were willing to miss out on sleep, the reward was worth the cost.
"I feel like it was a race. The people running outside -- it's ridiculous. I feel like a scored a pretty good deal right now, so I'm pretty happy," said one sleep-deprived shopper.
So far, retailers say this year has been much better than last year's dismal sales. Many stores have extended their sales and long hours all weekend.
------
Story compiled with contributions from Jennifer Stagg, a href="mailto:syi@ksl.com">Sandra Yi and Mary Richards.
×
Related stories
Most recent Utah stories