Estimated read time: 2-3 minutes
This archived news story is available only for your personal, non-commercial use. Information in the story may be outdated or superseded by additional information. Reading or replaying the story in its archived form does not constitute a republication of the story.
SANDY -- The Utah Transit Authority will complete a key link on the high-speed rail to Utah County this week. It's an engineering challenge, with the FrontRunner tracks crossing the existing railroad tracks in the air.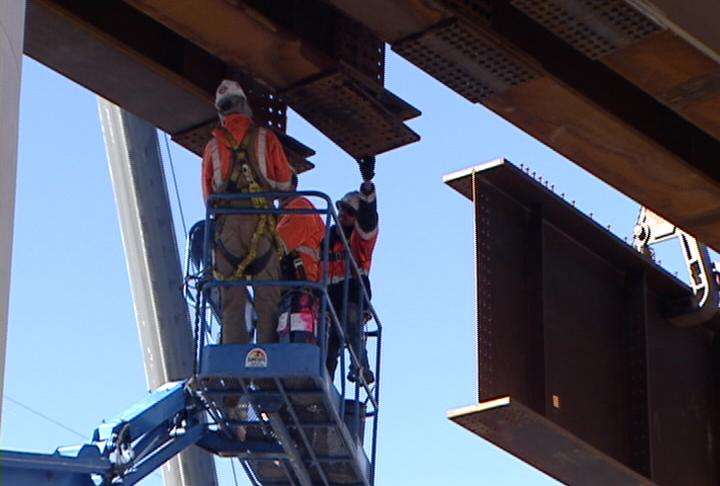 FrontRunner's south rail system is not a given. The tracks line is being built from the ground up. As the new line runs south through Salt Lake County, the rails are east of Union Pacific's rails; that is until about 9800 South. Here, it crosses, or "flies over," on a special bridge to run west of the existing rails. "It made sense north of Salt Lake to be on the east side. As we get down here to the south, we need to be on the west side of the tracks, so we built this special structure to accommodate that," explained FrontRunner project manager Steve Meyer.
The flyover bridge is made up of 20 steel beams, 475 feet long and 31 and a half tons each. The crew working on the structure carefully placed a few of them Monday. The pieces are held in place by 172 bolts per splice, 40 feet in the air above the existing Union Pacific tracks.
The concrete piers are set 100 feet into the ground. The girders have post-tension wires through them, allowing for more weight.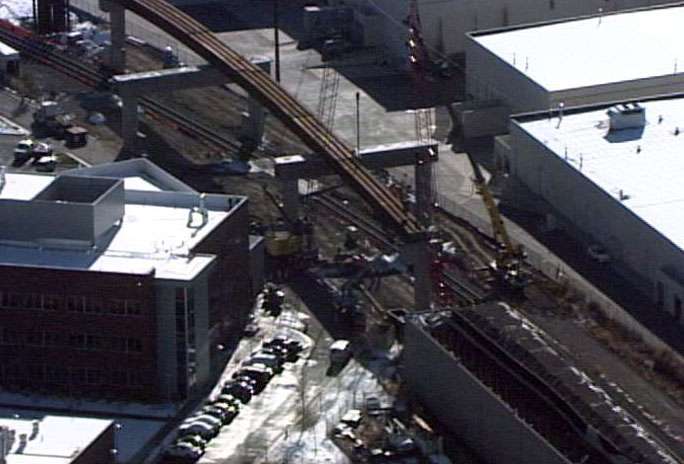 "This is our biggest structure on the FrontRunner South project," Meyer said.
UTA is taking advantage of low construction costs and voter-approved tax increases to pay for the $960 million project.
"Anyone who has ever driven and been stuck in traffic knows we need alternatives to move people from south to north," said Utah spokesman Gerry Carpenter.
When it's complete, the FrontRunner South line will be part of the 45-mile commuter rail line between Ogden and Provo.
There's been a lot of progress on the line that runs between Utah County and the Intermodal Hub in Salt Lake City, but there's still a lot that needs to be done. The whole project isn't scheduled to be completed until late 2012.
The FrontRunner South project is one of five rail projects that UTA is building and are set to be open by 2015. The others are light-rail projects to West Valley, the airport, South Jordan and Draper.
E-mail: rpiatt@ksl.com
×
Related links
Most recent Utah stories