Estimated read time: 2-3 minutes
This archived news story is available only for your personal, non-commercial use. Information in the story may be outdated or superseded by additional information. Reading or replaying the story in its archived form does not constitute a republication of the story.
Karen Scullin ReportingA Pleasant Grove man, who police say suffers from mental illness, is in jail tonight for assaulting his mother and biting a police officer.
Police say William Bolick was assaulting his mother when they were called to help. But when officers arrived Bolick ran out of the house and attacked them. William Bolick was at his mother's house when he allegedly threw her out of her own home right before he assaulted a police officer who came to help.
Lt. Doug Edwards, Orem Police Dept.: "He managed to bite down on one of the officer's fingers, his right index finger, and crushed it pretty badly. Ended up tearing off the nail and breaking the end of the bone in his right index finger."
Despite the officer using a stun gun on Bolick, the man got in his car and drove home to the trailer where he lives in Pleasant Grove. His 9-1-1 call to police appears to show a man who is both delusional and paranoid.
Bolick: Someone killed me.
Operator: Someone killed you?
Bolick: They broke into my house and killed me, I'm dead.
Operator: Um, your dead?
Bolick: Yeah, I'm the supervisor. I'm Jesus Christ himself.
Police arrived a short time later and surrounded the trailer park.
Nola Adams, Neighbor: "Guns drawn, and anyway, got kind of nerve-racking for a few minutes."
Police found Bolick difficult to reason with as they tried to get him to surrender.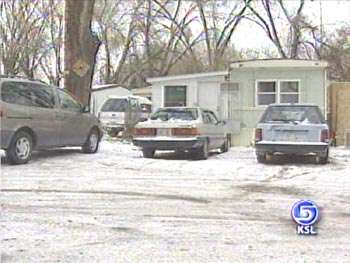 Chief Tom Paul, Pleasant Grove Police: "He told me he wanted to die in much the same way that Christ had. That he was in the bathtub and he was prepared to die and he was going to die the same way Christ had."
Bolick was naked when he finally walked out of his home. He was quickly taken into custody.
Nola Adams, Neighbor: "All of them just came rushing up to the door and took him down."
Bolick was booked into the Utah County Jail on numerous assault charges. Bolick's family members told KSL-TV that he has been troubled for some time, but that he is a good person and they plan to get him the help he needs.
×
Most recent Utah stories