Estimated read time: 3-4 minutes
This archived news story is available only for your personal, non-commercial use. Information in the story may be outdated or superseded by additional information. Reading or replaying the story in its archived form does not constitute a republication of the story.
DRAPER -- Fans of In-N-Out Burger eagerly awaited Thursday morning's grand opening of the first two restaurants along the Wasatch Front; one in Orem and the other in Draper.
In-N-Out Burgers usually opens at 10:30 a.m., but there was so much excitement the Draper location started serving up burgers at 9 a.m.
Marci Wallace and Kelli Davis, originally from California and former employees of an In-N-Out burger, lined up at 1 p.m. Wednesday. They said sleeping out in the cold was worth it.
Marci said, "The food is so good, we love it."
"It's so good, so worth it, every bite," said Kelli.
"We just thought it would be a really fun experience and it has been," Kelli said. "The associates were just so nice to us last night. We've been treated really well, and we've had a really good time."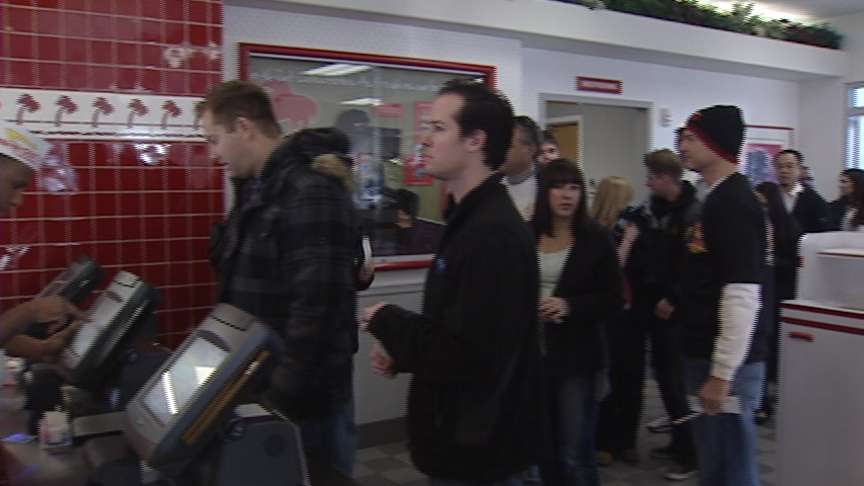 Behind them in line was another pair of loyal customers. D.J. said In-N-Out was more than just good burgers.
"For me it's all about the experience and doing stuff like this," he said. "You only live once and In-N-Out Burger, besides being the best burger in the world, they just have the best employees and associates, and everybody's super friendly. They treat us right."
Jeremy also camped out overnight. He said there was nothing quite like In-N-Out. "You know, I tell kids young and old that if you eat In-N-Out every day, or as often as possible, your wildest dreams will come true."
Noticeably absent from these northern Utah locations are the palm trees seen at the restaurant's other locations.
Kristi Calmy, In-N-Out's division manager, said, "We knew they just wouldn't handle the weather out here, unfortunately. We might be able to have them for a couple of days, but if it's any indication, we had a little plant outside yesterday. And it was gone."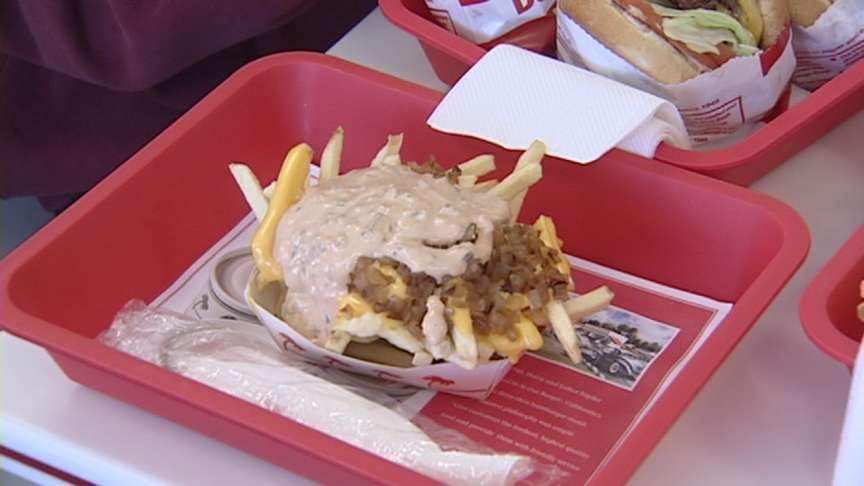 But the freshly cut fries, patties, and shakes made out of real ice cream is all the same. Calmy said, "Everything is fresh, made to order, no preservatives, everything is very, very fresh."
Two more stores will soon open in West Jordan and American Fork. Carl Van Fleet, the vice president of Planning and Development for In-and-Out Burger said the West Jordan location should open in early December, and the American Fork restaurant will open a week after that.
Right now, all the positions at the Draper, Orem, and West Jordan locations have been filled. But Calmy said the company was always looking for good applicants, especially for its other locations.
"We've probably hired an average 50 to 60 associates for each location so far," she said. "So, doing the math, when we continue to open more stores, we definitely are bringing some jobs out here, and we're very excited about that."
The starting wage is $10 an hour.
Washington City, 832 W. Telegraph St.
American Fork, 601 W. Main St.
Draper, 12191 S. Factory Outlet Dr.
Orem, 350 E. University Pkwy.
West Jordan, 7785 Jordan Landing Ave.
------
Story compiled with contributions from Amanda Butterfield and Shara Park.
×
Related links
Related stories
Most recent Utah stories