Estimated read time: 5-6 minutes
This archived news story is available only for your personal, non-commercial use. Information in the story may be outdated or superseded by additional information. Reading or replaying the story in its archived form does not constitute a republication of the story.
LOGAN -- Fans who attend Saturday's game between the Utah State Aggies (2-7, 1-4 WAC) and San Jose State Spartans (1-7, 0-4 WAC) will be witnessing a battle of WAC cellar-dwellers. Both teams are coming off humiliating losses, USU's 49-36 against Hawaii, SJSU's 62-7 debacle against Nevada.
"It was an extremely disappointing loss for us," USU Head Coach Gary Andersen said of the Hawaii game. "I thought we prepared well and I thought we would go in there and play well on offense, defense and special teams. We played extremely poorly on defense and that was disheartening. Our inability to execute was disheartening. Hawaii did nothing different."
San Jose State's WAC-worst rushing and overall defense beckons invitingly to USU tailback Robert Turbin, the conference's third-leading rusher. Turbin averages 103.6 yards per game, and if he gets his carries, breaking a long run is not a matter of if, but when. However, Turbin's talent was not on display against Hawaii, as the Warriors held him to 63 yards on just 13 carries.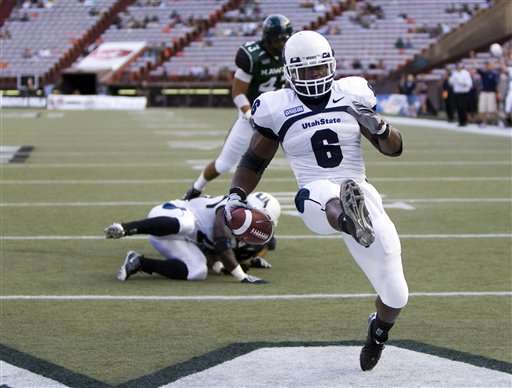 "They controlled the run game and Robert very well," Andersen said. "We had to throw the ball to be successful. I think we should have been able to run the football better. We need someone other than Robert to step up and make some plays. That starts with the offensive line.
"We will see exactly as we break down the film. But hopefully we will have the ability to run the ball against them. That gives Diondre (Borel) a chance to get out and make some plays with his arm and with his feet and with his mind."
San Jose State's offensive leader is junior quarterback Jordan La Secla, who took over for senior Kyle Reed during the Spartans' loss to Stanford. La Secla has led San Jose to come-from-behind 19-9 win over FCS Cal Poly, but has been unable to bag a win against an FBS foe. Following the Nevada embarrassment, La Secla is ranked eight out of nine WAC starting quarterbacks in pass efficiency.
La Secla's favorite target is senior Kevin Jurovich, who has 49 catches on the year and averages 82 yards per game. Andersen called Jurovich one of the best in the conference.
He will be going against a talented defensive backfield which got a boost from the return of cornerback Kejon Murphy against Hawaii. Murphy's first quarter interception put USU in an advantageous position early on, which the team was unable to capitalize on.
If the game is close, all eyes will be on USU kicker Chris Ulinski as he warms up on the sideline. Missed field goals have haunted USU lately, and may have cost the team the game against Fresno State.
"Our kickers have been an issue. It is an ongoing issue," Andersen said. "It was good for a certain phase through the season. We missed a field goal again. You look at the first of the year and evaluate things. Every year you know special teams is going to win or lose some games, and we have lost some this year."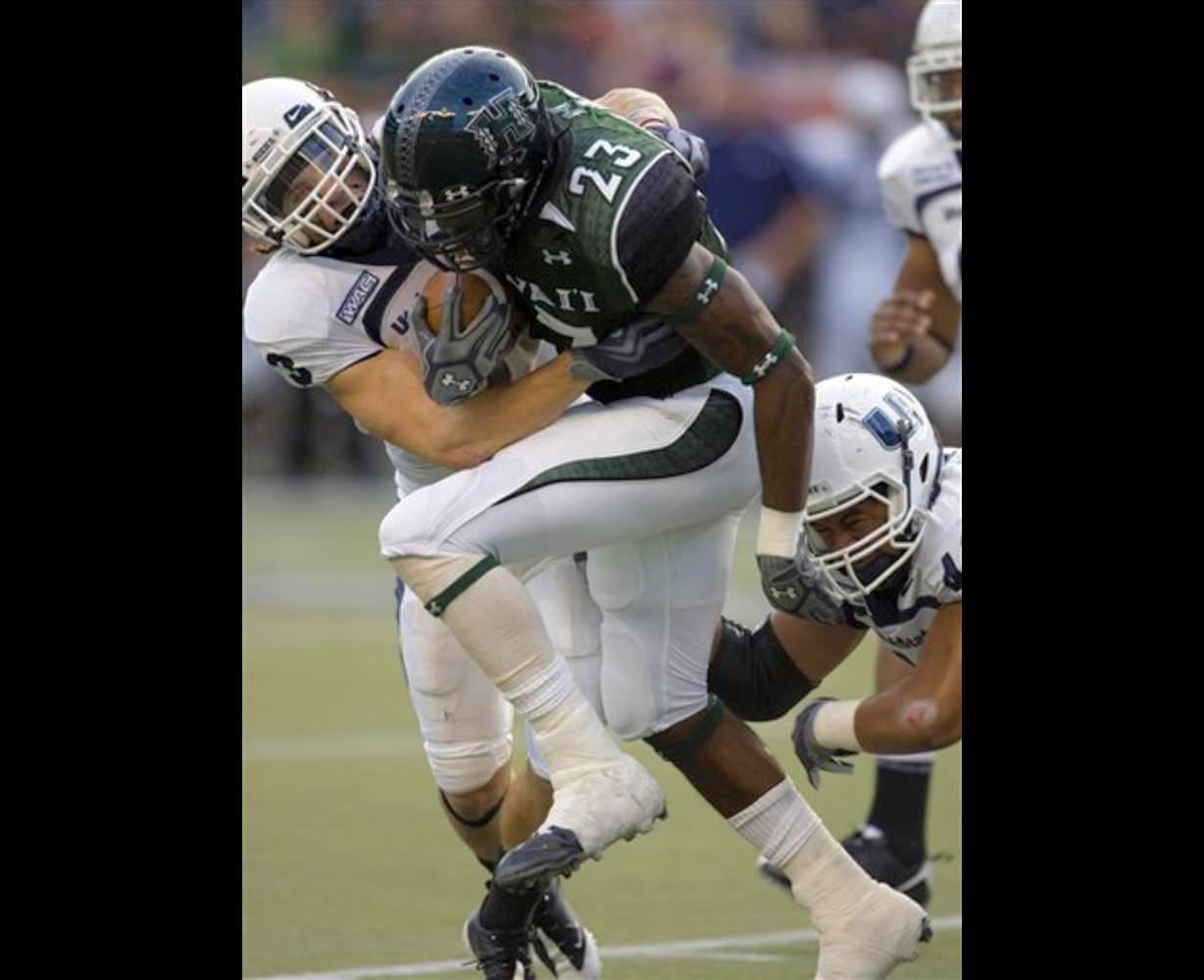 Another disappointment from the Hawaii game was Borel's two interceptions. Up to that point Borel had taken care of the football exceptionally well, throwing only one pick in eight games.
"I thought Diondre's play was very good," Andersen said. "He threw a couple picks, but he was harassed all night long. It wasn't his best game, but he played well enough for us to win."
Key to USU putting another conference win between itself and the WAC basement will be red zone offense. The Aggies have moved the ball with aplomb all year, but when the field gets short in front of Borel, the entire offense seems to have eggshells beneath its cleats.
Andersen said red zone failure "killed" the Aggies against Hawaii.
"It gets very difficult down there when they start doing different things in coverage," Andersen said in reference to his team's red-zone problems. "But that is a major issue on offense and defense. What can we do? Can we knock you off the football? For us to become a good football program we have to have an identity on offense and defense. We are truly lacking that."
Ultimately, breaking down the matchup, statistics suggest that while USU and San Jose State have similar records, USU is the superior team this year. In 31 WAC statistical categories, some more important than others, USU ranks in the top third of the league in five categories, in the middle in 14, and in the bottom in 12.
The Spartans are only in the top third in three categories, with seven in the middle and 21 in the bottom third.
Looking more closely, San Jose ranks second in the conference in offensive red zone performance, scoring 93.8 percent of the time, however, this isn't as impressive as it sounds, as San Jose's anemic offense has only visited the red zone 16 times in eight games. By comparison, USU has had 31 red zone attempts, converting them into points 83.9 percent of the time.
Andersen is not overlooking the Spartans, even as nationally-ranked Boise State's visit to Romney Stadium looms next Saturday.
"They are always going to be athletic on defense. They are going to come in here excited to play," Andersen said. "We have to be able to run the ball. We have put a lot of pressure on our quarterback this year to make a special play and carry us down field. We can't put our quarterback in that situation. It can't be that hard to play quarterback." Kickoff is scheduled for 1 p.m. in Logan.
×
Most recent Utah stories