Estimated read time: 2-3 minutes
This archived news story is available only for your personal, non-commercial use. Information in the story may be outdated or superseded by additional information. Reading or replaying the story in its archived form does not constitute a republication of the story.
SALT LAKE CITY -- Riders on FrontRunner commuter rail are now paying less. The Utah Transit Authority has dropped the base fare from $3 to $2 a ride. Some advocates question that move, accusing the agency of paying for it, in part, by increasing costs for the disabled.
On Nov. 1, new rules went into effect for those who use paratransit buses. Advocates say those changes will result in dramatically increased costs for disabled riders and could force hundreds out of work.
Brett Gift has a job as a janitor at the Columbus Community Center. Like many other disabled Utahns, he depends on UTA's paratransit buses for trips to work, the doctor's office, and the grocery store. He says he's not sure what he'll do now that his costs for the service are going up.
He says, "I don't know. I don't know, probably nothing. If i can't afford the bus, it's really expensive and I can't afford it."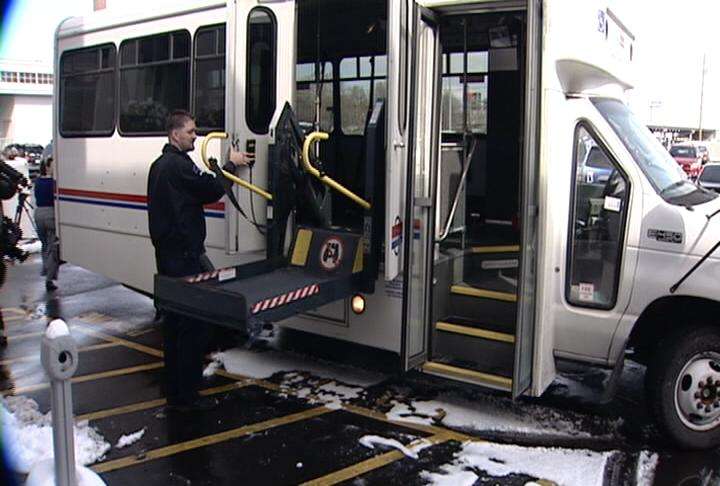 Instead of unlimited rides for a set fee, disabled riders now pay $2.50 per ride for 10- and 20-ride punch cards. State lawmaker Steve Mascaro, R-West Jordan, runs an agency which helps find work for people with disabilities. He says that amounts to a $54 a month increase, a hike of 63 percent.
Mascaro says, "They're raising their costs to a point where we're going to be laying people with disabilities off of work that should be able to go to work and continue on their jobs."
Mascaro believes the paratransit change is helping to fund a drop in FrontRunner commuter base fares from $3 to $2. UTA says lower fares will raise ridership.
Due to the recession, UTA revenues are down about 10 percent, or $35 million. The agency is cutting costs across the board, including paratransit, which makes up about 8 percent of UTA's budget.
UTA spokesman Gerry Carpenter says, "The cost per trip is about $35 per trip. And if you're using that an unlimited number of times, the cost of providing that service increases exponentially."
"My response to that is that they're putting that burden, I think, disproportionately on people with disabilities," says Kevin Keyes, assistant administrator at Columbus Community Center.
Advocates for the disabled are urging UTA to reconsider.
A spokesman for the agency says they're looking for additional funding through the federal government and working with the state to find alternative options.
E-mail: jdaley@ksl.com
×
Related stories
Most recent Utah stories