Estimated read time: 4-5 minutes
This archived news story is available only for your personal, non-commercial use. Information in the story may be outdated or superseded by additional information. Reading or replaying the story in its archived form does not constitute a republication of the story.
NORTHERN UTAH -- Health officials at two agencies that are trying to keep up with the high demand for H1N1 vaccine have come up with new ways to distribute it. The Weber-Morgan Health Department, Davis County Health Department and Utah County Health Department are trying a reservation system in order to cut down on long lines at mass vaccination clinics.
Utah County
Hundreds of people lined up, not to get a dose of the H1N1 vaccine, but to receive a ticket for one.
Individuals who fall into a CDC priority group were able to pick up a ticket that will assign them to a time block to receive the vaccine on Tuesday.
CDC priority groups
Pregnant women
People who live with or care for children younger than 6 months of age
Health care or emergency medical personnel with patient contact
Children age 6 months to 24 years of age
Persons 64 years of age and under with chronic medical conditions associated with higher risk of medical problems from influenza
In Utah County Monday morning, the turnout made it look like a mass vaccination clinic was underway. The health department has already distributed all the tickets they had available this week.
As a Utah County Health Department worker shouted the new H1N1 distribution procedures to hundreds of residents lined, the response from those waiting was still a little frustrated, yet hopeful.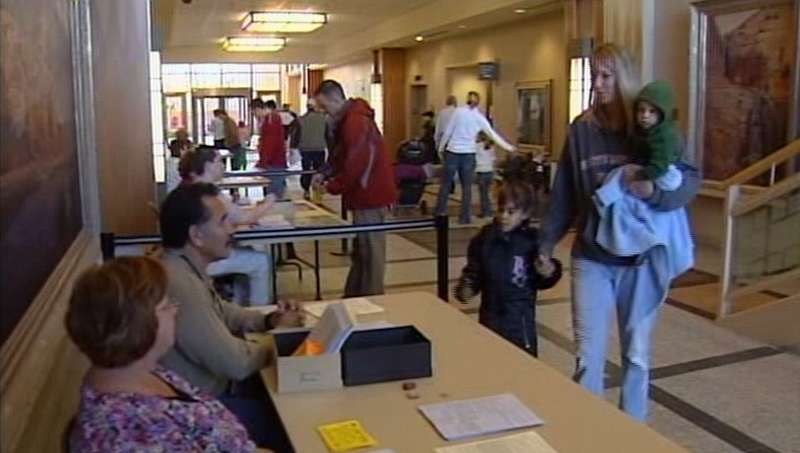 Resident Vivian Vega said, "There's got to be a better way, but I guess this is an improvement to the lines for the shot."
Long lines, and hours of waiting in the cold is what the Utah County Health Department is trying to prevent with the new H1N1 reservation ticket system. By 8:30 a.m., more than 1,500 tickets had already been given out, guaranteeing those residents a dose of the vaccine.
Volunteer Bob Hazen said, "These people will in fact get the vaccine. We plan to go through all 3,000 doses today and a good number of Thursday's as well. We'll have 3,000 for each day available."
The new reservation system works by giving tickets for a specific time period. There are about 400 tickets for each time slot, and a maximum of 6 tickets given to each adult. With the new system in place, the health department expects the waiting time to receive the vaccine will now be between 15 minutes and an hour.
Utah County Health Department spokesman Lance Madigan said, "People do have to come down twice because they do have to get the ticket, and they do have to come down for the vaccine. But they won't have to stand in line for 4-5 hours."
There is no cost for the vaccine, but the UCHD is asking individuals to bring their insurance information to help offset administration fees. Residents are encouraged to check the UCHD website at www.UtahCountyHealth.org, call 801-851-2222 or 211 for vaccine availability updates. The Utah County Health and Justice Building is located at 151 S. University Ave. in Provo.
Weber and Morgan counties
The Weber-Morgan Health Department will try something similar. It is asking people to use a new telephone number to schedule an appointment for the vaccine.
People can call 801-399-7288, between 9 and 10 a.m. Monday to schedule an appointment for the current week. They, also, must be in one of the risk groups.
The department will resume its mass vaccination clinics when larger shipments of vaccine arrive.
For more information on vaccine availability in Weber and Morgan counties, see the WMHD website at www.webermorganhealth.org or call the flu hotline at 801-399-8814 or 211.
One thing to keep in mind: the number of appointments at both of these health departments is based on the quantity of vaccine the department receives each week.
Davis County
The Davis County Health Department is also refining its ticket system for the H1N1 mass vaccination clinic scheduled for Tuesday, Nov. 3, at the Davis Conference Center from 10 a.m. until 5 p.m.
On Monday, from 5 p.m. to 8 p.m., more than half of the tickets will be handed out first-come, first-serve to people in the H1N1 target populations.
The location of Monday night's ticket distribution will be at the Davis County Legacy Events Center (formerly known as the county FairPark), 151 South 1100 West, Farmington.
The remainder of the free H1N1 vaccine tickets will be available at Tuesday's clinic until they all have been handed out.
People with tickets are asked to show up on Tuesday no earlier than 15 minutes prior to their designated hour.
SLVHD to begin taking appointments for H1N1 vaccinations
The Salt Lake Valley Health Department (SLVHD) will take appointments Tuesday for H1N1 vaccination clinics. Clinics will take place Wednesday, Thursday and Friday at four clinic locations.
You can begin making your appointments Tuesday starting at 9:00 a.m. until all available time slots are filled.
Appointments can be made either by calling the SLVHD Vaccination Hotline at 801-743-7280 or online.
Salt Lake City Public Health Center
610 South 200 East
Salt Lake City, Utah 84111
Southeast Public Health Center
9340 South 700 East
Sandy, Utah 84070
South Main Public Health Center
3690 South Main Street
Salt Lake City, Utah 84115
Ellis R. Shipp Public Health Center
4535 South 5600 West
West Valley City, Utah 84120
E-mail: spark@ksl.com
×
Related links
Related stories
Most recent Utah stories