Estimated read time: 3-4 minutes
This archived news story is available only for your personal, non-commercial use. Information in the story may be outdated or superseded by additional information. Reading or replaying the story in its archived form does not constitute a republication of the story.
WEST VALLEY CITY -- Whenever a large construction project comes along, contractors submit bids to get the work.
In most cases, one contractor supervises the entire project. But there's one project going on in Utah right now where 271 Utah contractors removed their competitive hats and worked together.
Construction began in October of last year on the new headquarters building for the Associated General Contractors of Utah. The AGC is the voice of the Utah commercial construction industry, representing its members on legislative issues, technology trends, education, training and the like.
The fact that the AGC now has a new building isn't the point here--but it's how that building came together. In this very competitive industry, it was extreme cooperation that made this happen.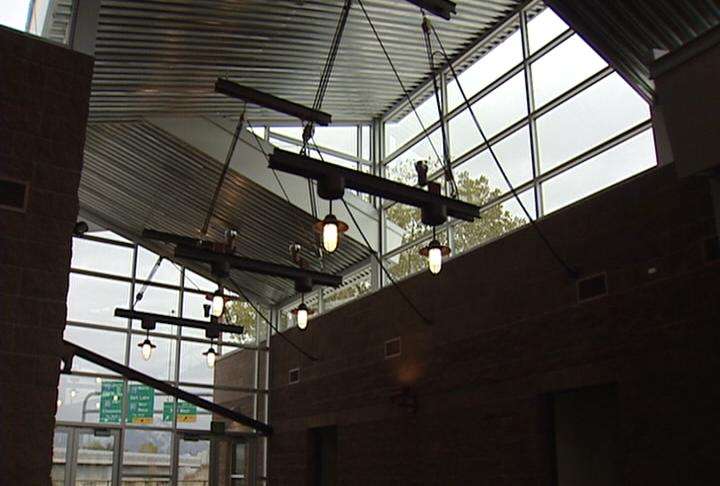 Rich Thorn, president and CEO of AGC-Utah, tells KSL, "In many cases, these members are fierce competitors when they're on a project other than this one. They're going head to head on some of the best projects in Utah, but here they set that competition aside."
Over 250 contractors donated time, money and materials for this project.
"Of the $3.7 million project, we have actually $2 million in donations toward the successful completion of this project," Thorn says.
AGC Vice President Joey Gilbert says everybody came through.
"All the way from the concrete work that's done, to brick masons, drywallers, your HVAC-type contractors, electrical contractors, window- and glazing-type contractors, steel contractors," Gilbert says.
Thorn adds, "And to have these companies willing to pull people and resources off of paying jobs to help build this in a gratuitous-type situation, has been nothing short of a miracle."
The architects had fun with the building, showcasing the various trades along with Utah's long construction history.
In the large conference room, there's a huge 3-D mural showcasing the various "tools of the trade" through the years. In the lobby, lights are mounted on steel I-beams. In the main board room, the 5-by-24-foot table will be topped with polished granite.
Project executive Terry Wright, who's also executive vice president of Jacobsen Construction, said the project forced all involved to be extremely flexible, to sacrifice time and adjust schedules.
"[It's] fun and challenging" he says, and certainly unique in the industry.
"Collegues around the country that we work with, when we tell them what we're doing, they shake their heads and say there's no way that this could happen in their state," Wright says.
"It's been fun to see so many companies come together in a spirit of camaraderie and in the spirit of trying to get something done for the good of an industry," Thorn says.
A ribbon-cutting ceremony for the new AGC headquarters 2207 South 1070 West in West Valley City will take place Nov. 17.
E-mail: kmccord@ksl.com
×
Related links
Most recent Utah stories