Estimated read time: 3-4 minutes
This archived news story is available only for your personal, non-commercial use. Information in the story may be outdated or superseded by additional information. Reading or replaying the story in its archived form does not constitute a republication of the story.
PROVO -- Hundreds of BYU students met at a bonfire over the weekend to mourn the loss of a classmate from a longboarding accident. Robison Sundell, a junior from Las Vegas, died from head trauma in the hospital after crashing in Pleasant Grove on Thursday.
Sundell's roommate Clinton Durfey said the two of them were riding steep roads in Pleasant Grove. They were about done for the day but decided to ride a couple more roads. As they made their way down, they ran into some loose gravel that caused them to start wobbling, and swinging back and forth on their boards. Durfey said he was able to make it through, but Sundell didn't.
"He hit his head really, really hard," said Durfey.
Three other roommates and friends were riding in a truck behind the two, and they immediately called for paramedics.
Sundell was airlifted to the University of Utah Hospital where he later died.
Durfey said they usually wore helmets on big hills.
"For some reason that day we just didn't have them. We were only planning on doing a couple [of runs]," said Durfey. "Robi usually wears a parachute too. Just like one of those training parachutes. For some reason he couldn't find it, and he didn't have it or his helmet that day."
The parachute is used to slow the rider down when they start losing control, which makes it easier for the rider to stop.
Sundell lived in a group of three houses near the Southern edge of the BYU campus. The students call the houses the Armada. The house Sundell lived in was nicknamed the Santa Maria, and Sundell was called the captain among his roommates.
"We all know each other from Robi actually. He's the one that knows all these different groups and brought us all together for this house." said Durfey.
"I would just say that Robi is the kind of person that everyone aspires to be. He's always pushing us to be better," said roommate Tom Preston.
Sean Mearns was one of the students following in the truck. He said, "It was just a tragic accident. I'm just so sad it happened. Robi, I never saw him in a bad mood. It was amazing how many friends he had. He was never focused on himself. It's just sad that he's gone."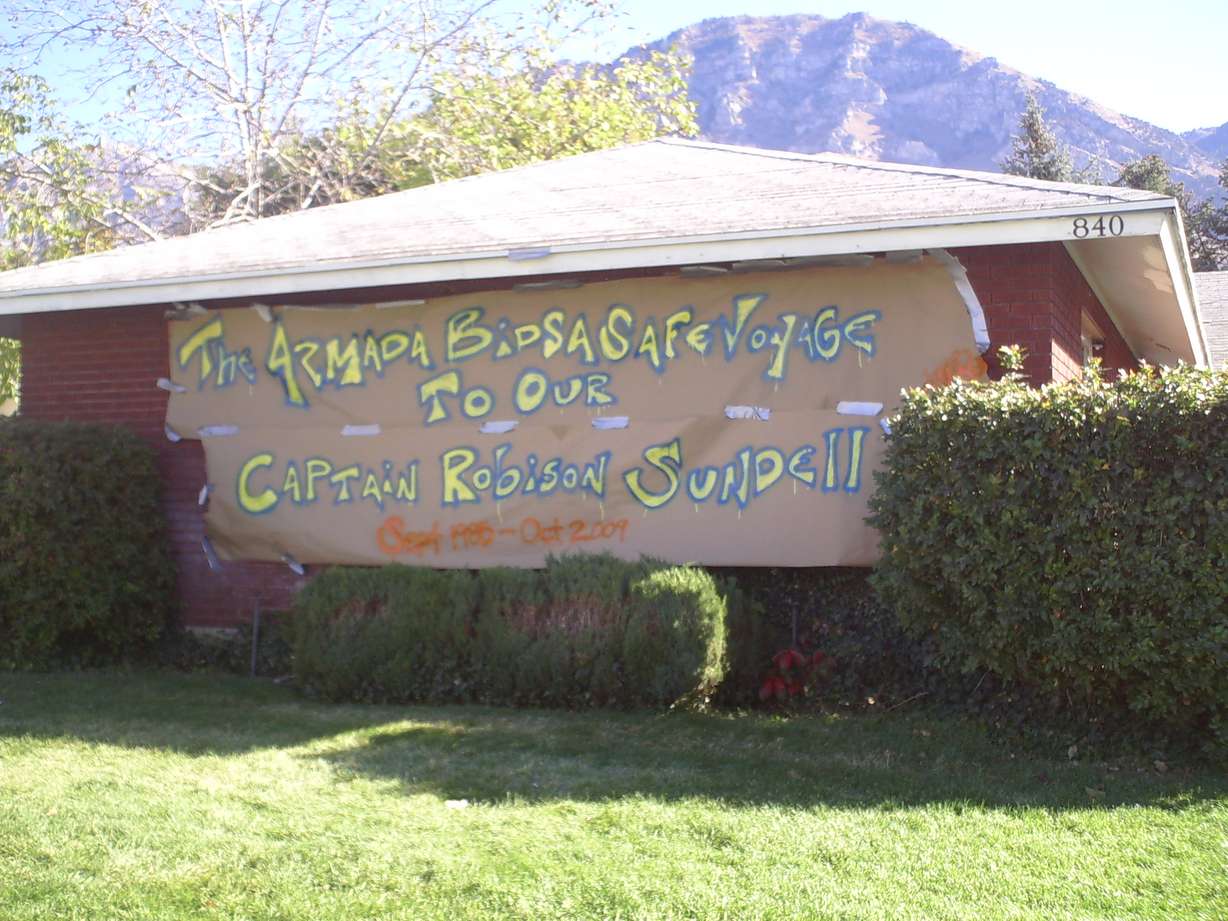 Mearns said on Friday night they had a bonfire with around 200 people where they shared stories about Robi. They also made a large sign that covers one side of their house as a way to cope. The sign says, "The Armada bids a safe voyage to our Capt. Robison Sundell."
You can hear more from Sundell's friends and roommates by clicking here.
There will be a viewing at Palm Mortuary at 7400 W. Cheyenne Ave., in Las Vegas from 5 p.m. until 7 p.m. on Wednesday Oct. 28.
The funeral will be at The Church of Jesus Christ of Latter-day Saints at 3300 N. Buffalo in Las Vegas on Thursday Oct. 29, with the viewing starting at 1 p.m. and the funeral starting at 2 p.m.
The 243rd Ward (his BYU ward) is hosting a memorial service Wednesday night at the Manavu Chapel, likely at 7 p.m.
E-mail: rjeppesen@ksl.com
×
Photos
Most recent Utah stories