Estimated read time: 2-3 minutes
This archived news story is available only for your personal, non-commercial use. Information in the story may be outdated or superseded by additional information. Reading or replaying the story in its archived form does not constitute a republication of the story.
Tonya Papanikolas ReportingDustin originally set out to take some pictures and spend time thinking about what he would do now that high school is over, but the trip didn't go like he'd planned. After spending a cold night on the mountain Dustin Jones is home safe today and walking with a limp.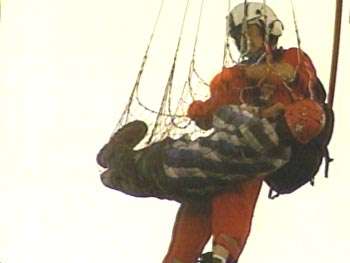 Dustin Jones: "It was only supposed to be an hour, two hour hike. But it turned into a lot longer than I expected."
Dustin started at Desolation Trail, but he didn't stick to the path. He says he wanted a better view of the city, so he wandered off-trail. And that's when he got into trouble.
Dustin's hike was so steep he says he started to crawl. Then he lost his footing.
Dustin: "I fell over backwards and started to roll down the hill about 20 feet, 20 to 30 feet. I hurt my ankle. Couldn't put any pressure on it, couldn't walk on it."
Thankfully, the teen came prepared. He had a backpack with extra clothing and a first aid kit, which he used to wrap his ankle. He had water to drink and Nutri-Grain bars for food.
Dustin had also taken his cell phone. He used that to call 9-1-1. While he waited for help, he built a campfire with matches from his backpack.
Rescuers eventually reached him, but decided it would be safest to bring in a helicopter, and they couldn't land that until this morning. At 6:00 a.m., they finally strapped Dustin into a harness, put him in a net, and flew him to safety.
Dustin: "I think it was so amazing that all these rescuers would drop everything to come and rescue someone they don't even know."
Dustin says he was more scared to face his parents than he was on the mountain. But his parents said the lecture can come later.
×
Most recent Utah stories