Estimated read time: 2-3 minutes
This archived news story is available only for your personal, non-commercial use. Information in the story may be outdated or superseded by additional information. Reading or replaying the story in its archived form does not constitute a republication of the story.
WASHINGTON TERRACE -- An elementary school in the Weber School District is already prepping students for college.
At Roosevelt Elementary, students are learning about different degrees and what they need to do to get accepted to a college.
Each classroom has adopted a university or college to theme their room around. The idea is meant to inspire the kids to one day attend college.
The fourth-grade students in Mrs. Jones class are big fans of the University of Mississippi--it's the school they've picked as they learn about higher education.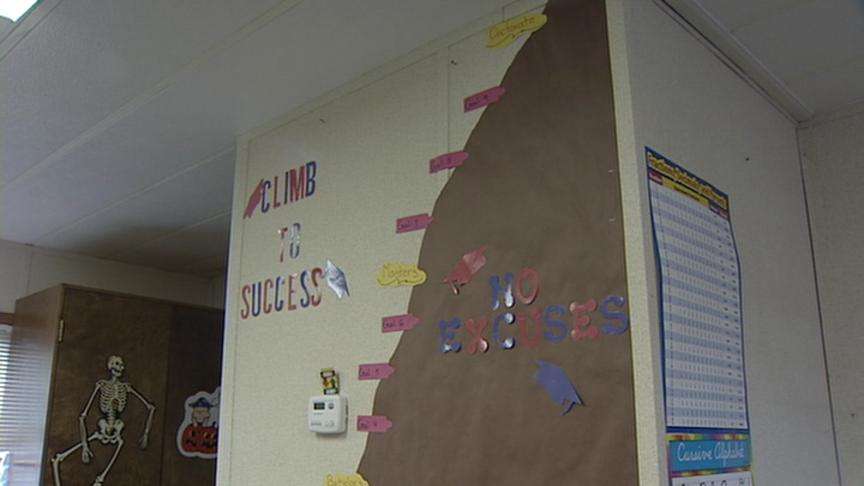 "I've learned these different kinds of degrees when you go to colleges. Bachelor's is first, then master's, and then doctorates," explains Dhaelan Hansen.
Before the No Excuses program, Dhaelan didn't realize how long it took to get those degrees.
"I just thought you went for a year or two," she says.
Now he knows better, and is working on goals to get there. And many of the students have started setting long-term goals.
Emma Reardon says her goal is "to go into college and at least get [her] bachelor's degree."
"If we only tell them about it in high school, they won't be able to work towards it," explains teacher Angie Young.
Young says when students are learning the basics of reading, writing, and math is the same time the kids should start learning about college.
"If you don't master those before college, you will never reach college. So, right now, we need to focus on college," Young says.
And with a degree, Young says that will give her students more chooses for the future.
"We try to help them realize they have potential and they can do anything they want with their future," Young says.
When Young contacted the University of Mississippi and told them about the No Excuses program, the school sent Ole' Miss T-shirts, pencils and paper for her students. The kids wear the shirts every Friday.
E-mail: abutterfield@ksl.com
×
Most recent Utah stories