Estimated read time: 3-4 minutes
This archived news story is available only for your personal, non-commercial use. Information in the story may be outdated or superseded by additional information. Reading or replaying the story in its archived form does not constitute a republication of the story.
SALT LAKE CITY -- As the H1N1 virus continues to spread, the Utah Department of Health says more vaccine is slowly making its way to Utah. Several health departments around the state are reporting a shortage of the vaccine and are continuing to limit the available doses to priority groups.
Vaccine running low as swine flu spreads
The next big shipment of the H1N1 vaccine is expected the first week of November. The UDOH says it will be about 110,000 doses. Until then, small shipments of the vaccine will arrive weekly and be issued until they're gone.
Tom Hudachko, spokesman for the Utah Department of Health, says, "It's been well documented that the vaccine has been arriving to the state a lot slower than we had hoped."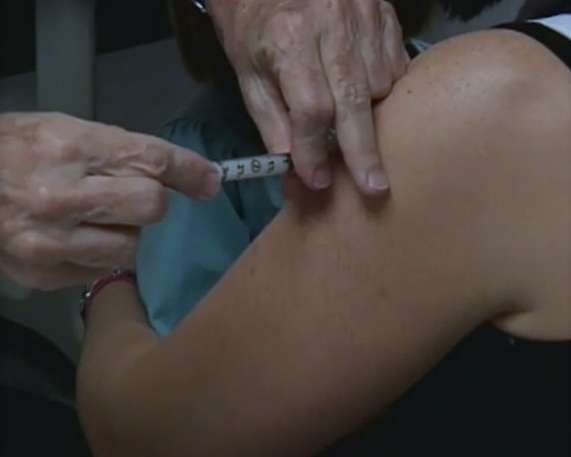 Since the first shipment of the H1N1 vaccine arrived in Utah, thousands of people have been vaccinated. While that number continues to steadily rise, so does the number of people infected.
"Last week doctors' offices were seeing about 3 percent of their patients coming in with flu-like symptoms," Hudachko says. "We would consider an outbreak at 1.1 percent, so we're well beyond what we would consider an outbreak of influenza in the state."
Slowly health departments and clinics around the state are running short on the H1N1 vaccine. On Monday, the Salt Lake Valley Health Department announced four of their clinics were out of the nasal spray. Doses of the injectable vaccine are still available but limited to both healthy children and children with chronic medical conditions ages 6-47 months (less than 4 years old).
---
It look like pretty close to 100 percent of the flu virus that is circulating in the community right now is caused by the H1N1 virus.
–Tom Hudachko, spokesman for Utah Department of Health
---
It is anticipated that more vaccine will arrive by mid-week, and when it does, it will be made available. In the meantime, the UDOH says protect yourself through prevention like washing your hands, sneezing into a sleeve and staying home if you're sick.
"This virus, while for most people is a mild to moderate illness, and they're recovering at home, but for some people it's very serious. That's why it's so important to limit the spread of it in the community."
Since Sept. 1, 127 Utahns have been hospitalized with the flu; four people have died.
SLVHD says injectable H1N1 vaccine still available
The clinics will open for business Monday at 8:30 a.m. to offer the injectable vaccine, but extended hours have been suspended.
SLVHD Vaccination Clinics
Open Monday-Friday 8:30 a.m.-4:30 p.m.
South Main Public Health Center
3690 South Main Street
Salt Lake City, Utah 84115
Ellis R. Shipp Public Health Center
4535 South 5600 West
West Valley City, Utah 84120
Salt Lake City Public Health Center
610 South 200 East
Salt Lake City, Utah 84111
Southeast Public Health Center
9340 South 700 East
Sandy, Utah 84070
Rules over when to get the swine flu and regular flu shots
You can get a swine flu and regular flu vaccine on the same day if one or both are in the form of a shot, not if both are in the form of a live virus nasal spray.
Rebecca Ward, education outreach coordinator with the Utah Immunization Program, says, "You want to try to separate those two sprays." She says you have to wait 21 to 28 days, or about a month between the nasal sprays for the regular and swine flu.
Now, kids have to get two doses of the swine flu vaccine.
She says, "You get your child the one dose, and 21 to 28 days later you come back and get the second dose."
It gets confusing if a child is coming in for the regular flu shot for the first time because that child will need two doses of that as well.
Ward says health clinics and doctors' offices should have all the answers if there's still confusion. Or you can call 211 or the immunization hotline at 1-800-275-0659.
------
Story compiled with contributions from Shara Park, Mary Richards, Marc Giauque and Carole Mikita.
×
Related links
Related stories
Most recent Utah stories