Estimated read time: 3-4 minutes
This archived news story is available only for your personal, non-commercial use. Information in the story may be outdated or superseded by additional information. Reading or replaying the story in its archived form does not constitute a republication of the story.
AMERICAN FORK -- A big construction project in Utah County will shut down Interstate 15 Friday night in both directions. The closure is attracting a lot of attention and may even attract spectators.
Months upon months of preparation went into the bridge move planned for Friday night. UDOT spokesman Scott Thompson says he's excited because the Main Street bridge replacement in American Fork is finally going to happen.
"Northern Utah County has been exploding, population-wise, and the current infrastructure was not in place to meet the demand," Thompson says.
Putting the bridge in place, though, means road closures. The two inside lanes on I-15 at American Fork's Main Street will be closed starting at 8 p.m. Friday. At 9 p.m., traffic over the bridge will be stopped. Then at 10 p.m., I-15 will be completely shut down in the area. Traffic will be re-routed to the on- and off-ramps as crews put the bridge into place.
"There's not a lot of leeway for mistakes on this," Thompson says.
In fact, bridge farms and moving bridge pieces into place have become popular lately. So much so that UDOT is expecting a crowd for Friday night's move.
"There could be a very big crowd here tonight if the evening is nice and we have good weather. People may want to come and see it, but it is going to be a long night for anyone who wants to see the whole thing," Thompson says.
The 192-foot-long bridge is the heaviest bridge ever being moved in Utah. It was put together in American Fork at a bridge farm.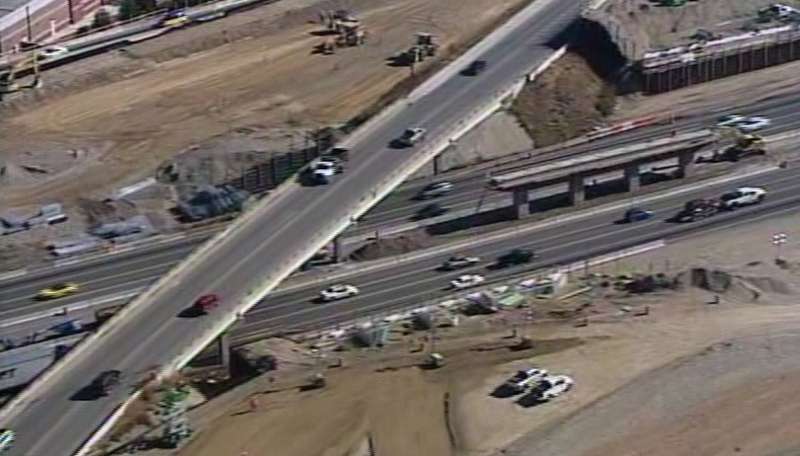 Utah has used bridge farms before, where the bridge is built near the site but out of the way of traffic. It's then just rolled into place.
Before bridge farms, the bridge was built exactly where it was going to be, forcing traffic to be impacted for months.
"In the old days, we would probably have to impact traffic for months, or even a year, to rebuild a bridge or put a new bridge in place," Thompson says. "Now we can build it off site and have it in place in a matter of hours, and inconvenience the public for just a weekend. It's a big savings for us."
The one thing about bridge farms, though, is engineers have to be precise to the centimeter when snapping the bridge into place.
There is a viewing area here on site for people who want to watch the bridge being rolled into place.
A bridge second span will be moved into place on Sunday night, and the same closures will apply. Crews say they should have that span in place in time to open the freeway for the Monday morning commute.
Other closures
Crews are also replacing the 2300 East bridge on eastbound I-80 in Salt Lake County this weekend. That interstate will be closed for 18 hours at 2300 East, from Saturday at 8 p.m. to Sunday at 2 p.m. UDOT is detouring drivers from I-15 to I-215 East, which then connects with I-80 at Parley's Canyon. Westbound lanes are expected to be closed on the east side to State Street next weekend for work.
Also, UDOT is closing I-80 eastbound from Bangerter Highway to I-215 from Saturday at 11 p.m. to Sunday at 3 a.m, and from Monday at 11 p.m. to Tuesday at 3 a.m. Traffic will be detoured from I-80 to Bangerter Highway, then to S.R. 201, which connects to either I-215 or I-15. Crews will be installing overhead signs.
------
Story compiled with contributions from Alex Cabero, Andrew Adams and Becky Bruce.
---
×
Photos
Most recent Utah stories