Estimated read time: 3-4 minutes
This archived news story is available only for your personal, non-commercial use. Information in the story may be outdated or superseded by additional information. Reading or replaying the story in its archived form does not constitute a republication of the story.
SALT LAKE CITY -- Several agencies gathered at the 6th annual Homeless Summit in Salt Lake City Thursday to discuss one of Utah's most vulnerable populations.
---
On any given night, about 3,000 Utahns are homeless. -Housing Works
---
A report released at the summit showed chronic homelessness is down, but there are more people on the streets. Although Utah has a 10-year plan to end chronic homelessness, the number of people spending nights in temporary shelters is up.
Gordon Walker is the director of the Division of Housing and Community Development. "We're changing lives, and we're bringing people off the street," he said.
The Homeless Summit brought together agencies and organizations that provide services to Utah's homeless.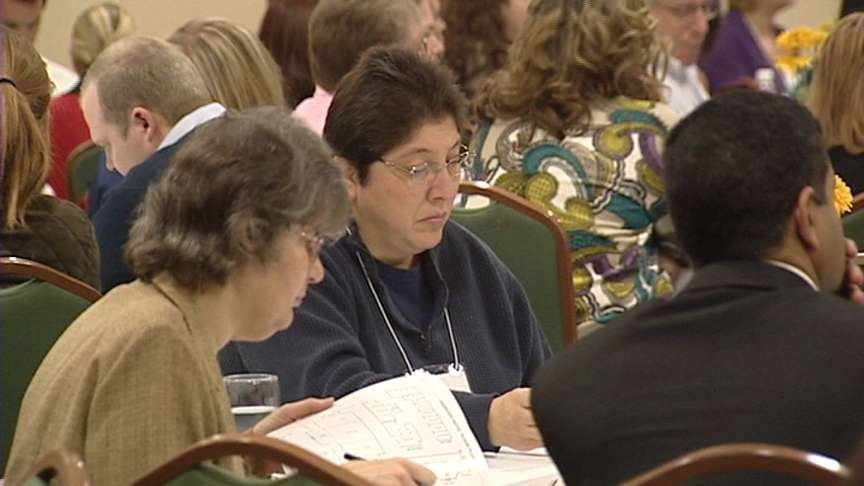 "In order to reach such a goal, it requires a collaboration of everyone," said Walker.

The goal is to end chronic homelessness in Utah by 2014 -- chronic meaning someone who has been homeless for over a year.

Walker said to end homelessness, those on the streets need to be self-sufficient, and one way to do that is housing.

The Church of Jesus Christ of Latter-day Saints announced during the summit that it donated $1.5 million to help fund a St. Anne's homeless housing center in Ogden.

**Did you know…**

• In 2009, 0.6% of Utah's population is homeless (15,525 people) • Homeless individuals are most often temporarily homeless. • 36% stay in shelters for less than 7 days; 67% are homeless for less than 6 weeks • Only 9% are chronically homeless • 80% are male; 19% are veterans; 28% are children • 46% of homeless are in families- mostly single mothers and children • 74% of homeless individuals, 88% of homeless families are from Utah • 89% of homeless live along the Wasatch Front • Life expectancy for Utah homeless is 48 years (natl. avg. is 78 years) • On average 50 homeless individuals die per year in Utah - *Housing Works*

Summit participants toured new shelters and housing available to rent for those living on the streets.

"When we give them hand up, they tend to be able to take the next step," said Pamela Atkinson, a community advocate.

Atkinson was the keynote speaker at the summit. She said Utah is on the right track.

Chronic homelessness is down, but those numbers are just a small fraction of the total homeless population and don't include the temporary homeless -- people who have recently lost their jobs.

**Highest # of Homeless**
| County | \# of homeless |
| --- | --- |
| Salt Lake | 9,766 |
| Weber | 2,060 |
| Cache | 702 |
| Davis | 645 |
| Washington | 559 |
The number of homeless people in shelters has increased every year since 2006. Atkins said despite the numbers, there is hope. "So many of the people we've got in housing first say, 'I've accomplished something, I can go the next step,'" she said.

Four new locations for homeless housing were announced at the summit: Ogden, Weber, Salt Lake and Washington County.

E-mail: aforester@ksl.com

×
Related links
Most recent Utah stories