Estimated read time: 2-3 minutes
This archived news story is available only for your personal, non-commercial use. Information in the story may be outdated or superseded by additional information. Reading or replaying the story in its archived form does not constitute a republication of the story.
Sammy Linebaugh ReportingUniversity of Utah football is about the hottest game going this Fall and fans are snatching up anything with a "U" logo. The University of Utah Bookstore reports an 80 percent jump in sales of Ute merchandise in the last year. But enthusiastic entrepreneurs are sometimes bending the licensing rules.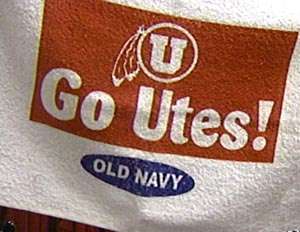 Six straight wins, streaking for an undefeated season, the Utes are hot which means red is royal.
Shane Hinckley, U of U Licensing Administrator: "Right now everybody wants a piece of Utah's action, so to speak."
That's the good news. The bad news, says Ute licensing director Shane Hinckley, some are stealing the Ute name and illegally distributing products with images that are the property of the University.
Shane Hinckley: "The use of the university's marks are protected by trademark, so to properly use them within the law they need to get the university's permission before they do so."
From towels and hats to a post-game party flyer using the trademark U, Hinckley says he's been inundated with illegal merchandise reports. He says many offenders don't realize they're breaking the law and are surprised that something as simple as the letter U is, in effect, owned.
Shane Hinckley: "Basically everything you see that has our mark, the circle and feather mark, the block U, our interlocking U's, the U of U mark, the words Utah, University of Utah, Utes, Running Utes, Lady Utes, even our mascot has images that are trademarked. The name swoop is trademarked, the muss, the student section is trademarked."
That doesn't mean new ideas aren't welcome. In fact, the bookstore is already bursting with newly-licensed products -- from dolls to mailbox covers, bike helmets and new hairdos.
The best way to avoid an unsavory situation, says Hinckley, is to ask questions. That way, he says, everybody wins. The caution is, even if you don't intend to sell the item, it still cannot bear any U trademark without a proper license.
×