Estimated read time: 3-4 minutes
This archived news story is available only for your personal, non-commercial use. Information in the story may be outdated or superseded by additional information. Reading or replaying the story in its archived form does not constitute a republication of the story.
SALT LAKE VALLEY -- A storm made for a messy commute for many Utahns Wednesday morning. Drivers saw lots of rain; some even had snow near the canyons. It's a reminder to everyone that fall is officially here.
Snow began to stick to the road on I-80 at Parley's Summit, but it did not created traffic problems. Traffic slowed on Interstate-215 from Union Park to the Interstate-15 interchange, thanks to an accident. Slowdowns could also be found on I-15 as several accidents clogged up the freeways.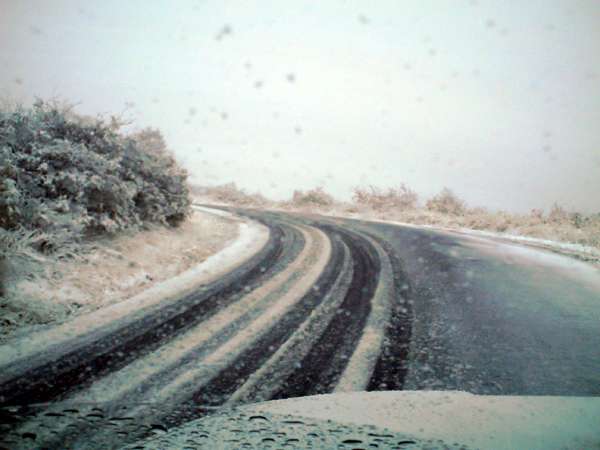 Wet roads played a part in an accident on I-15 near 700 north. A semi truck flipped onto its side after a car cut the driver off. The semi slammed on its brakes, then flipped. Traffic was backed up as far as 600 north, but has since cleared up.
Several other accidents around the valley slowed drivers. Another tanker rolled on I-80 east near I-15 south
Jason Hunter, with the Utah Highway Patrol, said, "The hitch broke loose for some reason, at which time the rear cup came disconnected, then rolled onto its side."
Crews cleared up the accident just before 10 a.m. That accident caused traffic to stop and go.
Highway Patrol says by 10:00 a.m. there had been 24 property crashes and nine injury crashes in Salt Lake County and another eight property crashes and two injury crashes in Utah County.
There were five accidents involving six semis that clogged major arteries in Salt Lake and Utah counties. Some of those problems stretched into the noon hour.
Surface streets were also problematic at times, thanks to a naturally-forming oil slick. Spokesman Adan Carrillo says when roads have been dry for an extended period of time, rain can mix with dried oils and car fluids to create the oil slick. Carillo says it's most noticeable at intersections.
"You will tend to slip if you come to a stop and then get ready to go, press the gas and that's when you'll tend to feel that your tires are slipping," Carillo said.
Another accident in South Jordan kept crews busy. A school bus hit a car after the car ran a red light. It happened around 8:30 near 11800 South and 3600 West. There were four kids on the bus, but none of them was hurt. Firefighters say weather may not have played a part in the accident, but it still serves as a reminder.
Capt. Nathan Morreale, with the South Jordan Fire Department, said, "I'd really like to remind everybody that with the change in weather to make sure they are driving safe, make sure they have their seat belts on, so that we don't have many more accidents."
Morreale said people should slow down and give themselves plenty of time to get to where they were going because this storm was just the first of many more to come.
"With the different seasons we have out here in Utah, this unfortunately does happen," he said.
The Utah Department of Transportation prepared for the change in weather earlier this week. At UDOT headquarters on Tuesday, crews put snowplow blades on trucks, despite temperatures in the 90s.
"We have outfitted three of our construction trucks into snowplows, which is normally what we do. So some of these trucks now have blades," said Carrillo.
He said those trucks were positioned in Parley's Canyon, just in case they were needed. It's normal, of course, to have mountain snow by now.
By the height of winter, UDOT alone will have 280 plows on the road.
Get traffic updates on KSL Newsradio 102.7 FM/1160 AM.
------
Story compiled with information from Anne Forester, Andrew Adams, Randall Jeppesen and Marc Giauque.
×
Photos
Related links
Most recent Utah stories