Estimated read time: 3-4 minutes
This archived news story is available only for your personal, non-commercial use. Information in the story may be outdated or superseded by additional information. Reading or replaying the story in its archived form does not constitute a republication of the story.
SALT LAKE CITY -- Training camp starts next week for Olympic hopefuls vying for a spot on the U.S. Skeleton Team. Local contender Noelle Pikus-Pace has recruited her husband's help to make the team: He has designed and is building her a custom skeleton sled from scratch.
In a steel fabrication workshop tucked away on Salt Lake City's west side, Janson Pace is making something he's never made before: a skeleton sled for his wife.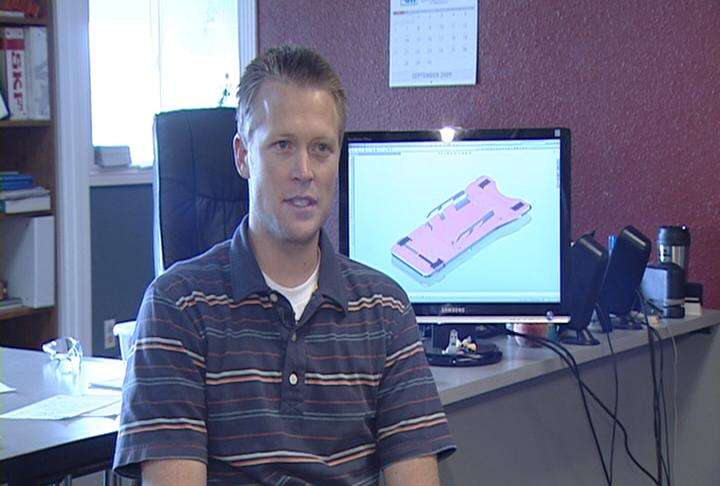 "Ever since she was hit by a bobsled and hurt her leg, she hasn't been able to get comfortable on a sled," Janson says.

In 2005, ranked No. 1 in the world in the skeleton event, Noelle's leg was crushed in a freak accident. A bobsled plowed into her at 60 miles an hour.

It's been a rough recovery, but Noelle wants to compete one more year in one last Olympics, and she can't wait to get on this new sled.

"She's feeling really good, feeling really excited this year," Janson says.

He has been working on the custom sled since spring. Though he showed us the 3-D model and parts, he doesn't want to give too much away just in case competitors are watching.

"I'd rather not go into details on specifics," Janson says.

![](http://media.bonnint.net/slc/1466/146622/14662270.jpg)

Noelle Pikus-Pace, 26, was born in Provo. She graduated in 2001 from Mountain View High School in Orem where she competed in basketball, softball, track and field, soccer, bobsled, and began skeleton. She married Janson Pace in 2002 and began competing on the World Cup tour in 2003 and finished 14th in the world. She won the Overall World Cup title in 2005. In 2006 she was favored to win gold in the Torino Olympics, but was hit by a runaway bobsled during team trials, breaking her right leg. She came back in 2007 and won the World Championships then took time off to have a baby girl. She is now preparing to compete in the 2010 Vancouver Olympics.

He's excited for the new sled to be completed. It will actually have a pink top. The body of the sled is still being made, in Minnesota. "This one is going to be different than any other sled we've seen," Janson says. "We're pushing it, we're going a little last-minute right now.

Hopefully at the end of the week it will get here, so Janson can put the finishing touches on it and have it done by Saturday morning for Noelle to take to training.

Though he's put in thousands of hours, Janson says he's enjoyed doing this for his wife and hopes the custom sled takes her all the way to Vancouver and the gold.

There are three spots for women on the U.S. Team, which will be picked by the end of October.

Janson tells us the German skeleton team has a budget of $2 million to design its sleds. Not including hours, he's guessing his sled will come in at about $7,000.

E-mail: abutterfield@ksl.com

×
Most recent Utah stories