Estimated read time: 2-3 minutes
This archived news story is available only for your personal, non-commercial use. Information in the story may be outdated or superseded by additional information. Reading or replaying the story in its archived form does not constitute a republication of the story.
MILLARD COUNTY -- A human skeleton was uncovered in central Utah over the weekend by two teenage boys. They discovered the skeleton Friday night while digging in a sandpit just outside of Fillmore in Millard County.
There were no indications that the bones were that of a murder victim; investigators believe it is likely from a Native American or early settler. But for the two teens who were in a 4-wheel drive vehicle, it was an unexpected discovery.
"I opened the door and heard a clunk--and it sounded like we had hit a rock--and got out, and there was a bone sticking out of the side of the sand," one of the teens, Keifer, said.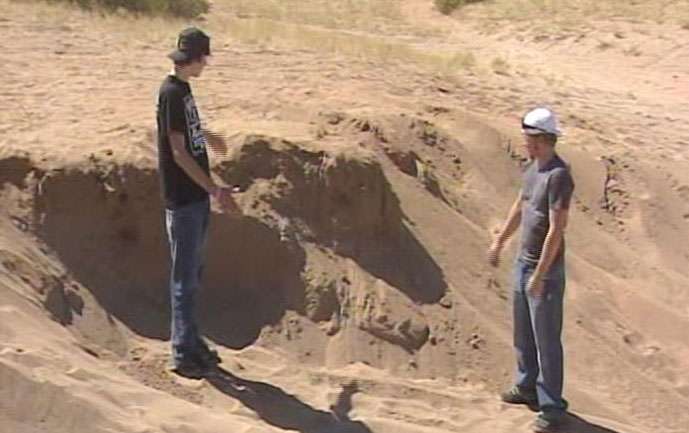 Derrek, who was with Keifer when they found the skeleton, said, "We got out, and there was a bone sticking out, and we thought it was an animal, and we started to pull out a few of them. And then we dug out a little more and there was a skull in a few pieces. And then we set it out, and he called his mom."
Keifer's mother, in turn, called the Millard County Sheriff's Office. Detectives then worked to secure the scene.
The two teens were at an area known as 'The Sand Pit,' about a mile southeast of Fillmore. Investigators spent Friday night sifting through the sand to ensure they recovered all of the skeleton and to look for other possible evidence.
The circumstances of how the skeleton was found--in less than 18 inches of sand--has prompted the detectives to look at all possibilities.
"We responded and treated it, obviously, like a crime scene," said Millard County Sheriff Robert Dekker. "The bones have been removed, and this afternoon they are at the medical examiner's office. It appears to me to be an artifact-type bones that have been there for many years."
No clothing remnants or other items were found with the skeleton. Similar artifact finds have been found in the area over the years.
It will likely be a few weeks until the medical examiner has made a determination about the origin of the bones and detectives are able to rule out foul play.
E-mail: spenrod@ksl.com
×
Most recent Utah stories