Estimated read time: 2-3 minutes
This archived news story is available only for your personal, non-commercial use. Information in the story may be outdated or superseded by additional information. Reading or replaying the story in its archived form does not constitute a republication of the story.
SALT LAKE CITY -- A Utah man following in the footsteps of the Mormon handcart pioneers has made it back home. Pulling his 1850s-style handcart, Lynn "Doc" Cleland ended his journey Saturday at This Is The Place Park.
Cleland reached the Salt Lake Valley on the same day his ancestors did in 1856. After walking 1,400 miles, he is glad to be home.
"I've made it to the valley!" Cleland exclaimed when he arrived.
For nearly four months, Cleland has been trekking across the plains of Iowa, Nebraska and Wyoming. He reenacted the journey of his great-great-great-great-grandmother, Sarah Goode Marshall.
Marshall came to the Salt Lake Valley in September 1856 with her six children.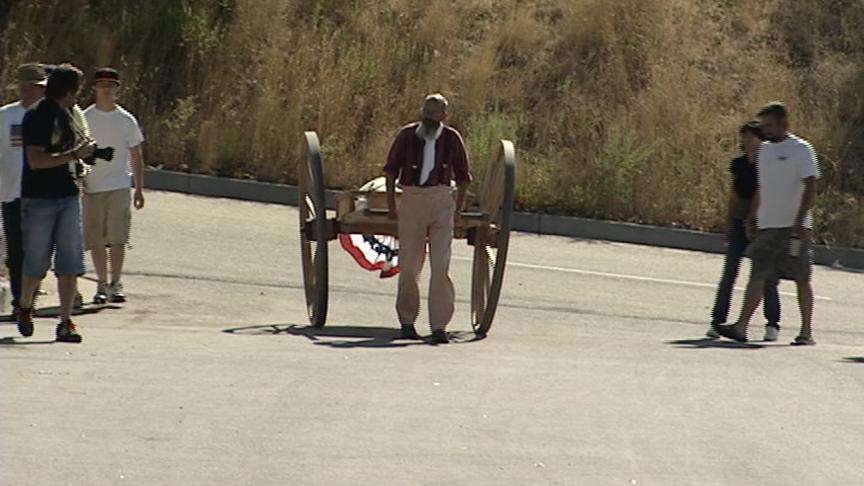 "I can tell you everything that I've suffered, everything that I've gone through, is only just a little corner; it doesn't even come close to what my grandmother went through," Cleland says.
His friends and family members greeted him with cheers; he even was praised by a Brigham Young look-alike.
Cleland is all smiles now, but while on his trek he faced serious weather and illness. In Iowa, he got caught in a tornado. His only shelter from 70 mile-an-hour winds was a canvas tent.
"I thought, 'I'm going to die.' I thought I was in a tornado that would lift me up and throw me into the next county," Cleland recalls.
He made it through the storm but then got an infection in his leg. He stayed in the hospital for days. In fact, the infection was so bad he thought he might not finish the trek.
"I thought, 'I want to have the experience, but I don't want to die in the process.' So, there was some fear in there," Cleland says.
In the end, he says he would do it again.
"I'm alive and doing well, and I feel better than I have felt in a long time. This is awesome," he says.
Cleland lost 48 pounds on his journey and was looking forward to a good, home-cooked meal. He wants to share his story and plans to write a book about his experience. [CLICK HERE to see more pictures of Cleland's journey]
E-mail: aforester@ksl.com
×
Related links
Related stories
Most recent Utah stories