Estimated read time: 2-3 minutes
This archived news story is available only for your personal, non-commercial use. Information in the story may be outdated or superseded by additional information. Reading or replaying the story in its archived form does not constitute a republication of the story.
SALT LAKE CITY -- Firefighters say a heated towel rack plugged in the basement bathroom caused a fire that burned an elderly couple's home. The fire started just as the couple settled into bed around 11 p.m. Wednesday near 1500 South and 1200 West. It wasn't until the smoke detectors went off that they realized the house was on fire. A few moments later, thick, black smoke was creeping up from the basement.
Battalion Chief Michael Andrew with the Salt Lake City Fire Department said, "Initially when everyone got here, there was smoke showing from all openings."
---
They could hear the crackling. They could feel the heat.
–-Salt Lake City Fire Department spokesman Mark Bednarik
---
Tom Trane, the couple's son-in-law said, "They're 80 years old, so they're a little in shock."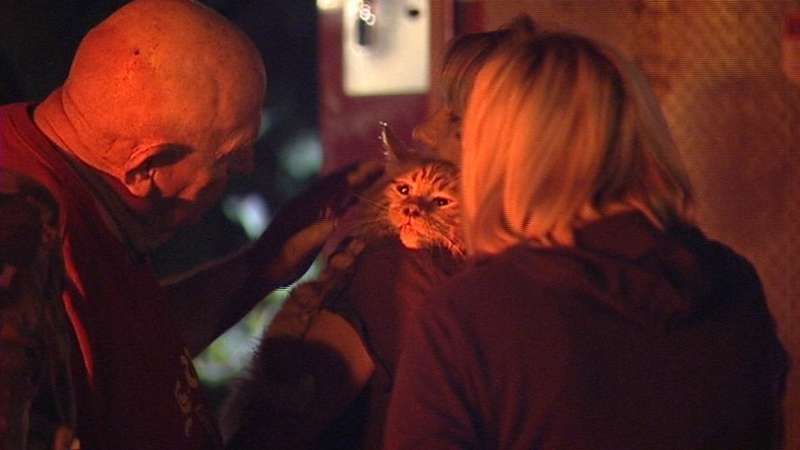 The elderly couple got out of the house OK, but their 10-month-old cat was still inside.
"They couldn't find him, so the firefighters went in, and he was right at the front door, but he had a lot of smoke," Trane said.
The firefighters gave the cat oxygen and finished putting out the fire.
By the time they were done, the majority of the damage was contained to the basement.
Salt Lake City Fire Department spokesman Mark Bednarik said, "They've (investigators) estimated the damage to be anywhere between $60,000 and $75,000."
Firefighters warn as the weather gets colder to be cautious about using heating appliance. They say to follow the manufacturer's recommendations and don't leave it unattended.
Andrew said, "Space heaters--especially if they're the electric type--you want to keep a good distance between the space heater and combustible materials. That could be blankets, walls, towels, etc."
Bednarik said space heaters are notorious for starting fires. "If you can avoid using them at all, we would recommend not even using them," he said. "I mean, they cause that many fires every year that it is a concern."
Firefighters also said it's also a good idea to get your furnace inspected.
E-mail: spark@ksl.com
×
Most recent Utah stories