Estimated read time: 2-3 minutes
This archived news story is available only for your personal, non-commercial use. Information in the story may be outdated or superseded by additional information. Reading or replaying the story in its archived form does not constitute a republication of the story.
SALT LAKE CITY -- When you pick someone up, how often do you just let your engine run while you wait? Utah's top politicians are asking people to "Turn the key. Be idle-free."
"[It] saves fuel, reduces pollution, makes a difference in terms of our air quality," said Dianne Nielson, energy advisor for Gov. Gary Herbert.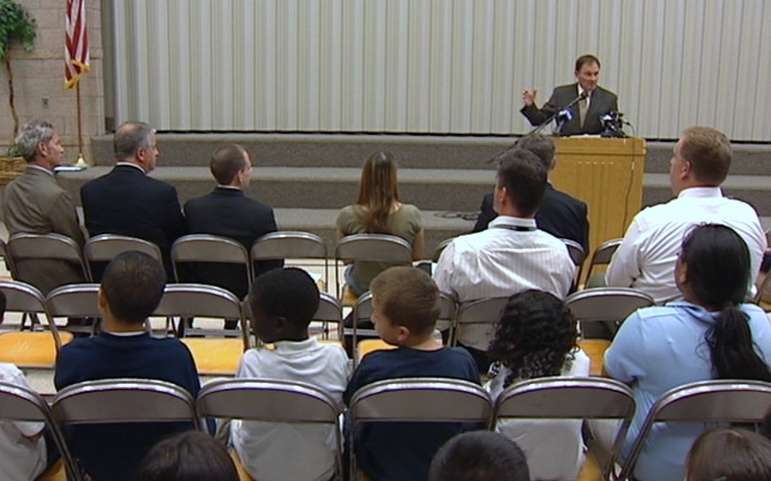 That's the benefit of an initiative called "Idle-Free Utah." Herbert is taking the lead on the effort; he helped kick it off at Mountain View Elementary School Monday and issued a challenge to parents.

"If we idle more than 10 seconds, we turn the key off, we stop the motor," Herbert said. "Because in doing so, we will stop pollution from coming out of the tail pipe and into the air."

It's surprising how the waste adds up. Remember the ugly smog that's all too common in both winter and summer in Utah's valleys? The governor and a group of politically-diverse mayors agreed to sign a proclamation to declare this "Idle-Free Week."

**Did you know…**

• Idling for 10 seconds uses the same amount of gas as restarting your car • Idling for two minutes uses the same amount of fuel it takes to go about one mile • Idling for 1 hour burns nearly 1 gallon of gasoline • The average person idles their car five to 10 minutes a day • Idling is linked to increases in asthma, allergies, heart and lung disease and cancer • Newer vehicles need no more than 30 seconds of idling time in cold temperatures - *Idle Free Utah and California Energy Commission*

A few of the parents at Mountain View thought of another advantage to turning the car off while they wait: It's safer.

"I think this is an awesome idea. Turn your key, keep traffic to one side if you're not going through; and it keeps people from not getting hit," a parent named Jay said.

Officials are also suggesting people combine errands, walk, carpool or ride public transit; all are ways to get people to think more about what they can do to contribute to cleaner air in Utah.

E-mail: rpiatt@ksl.com

×
Related links
Related stories
Most recent Utah stories