Estimated read time: 1-2 minutes
This archived news story is available only for your personal, non-commercial use. Information in the story may be outdated or superseded by additional information. Reading or replaying the story in its archived form does not constitute a republication of the story.
Amanda Butterfield reportingAn MD 80 aircraft landed safely after an emergency scare at the Salt Lake International Airport this morning.
The plane was from Ontario, California en-route to Salt Lake International.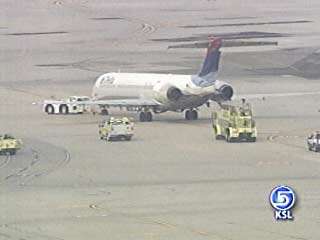 Passengers say that 30 minutes into the flight, the problems began.
Debra Vanhaaster, passenger: "I could tell that something was wrong, because I saw one of the attendants walk back and they stopped serving. I could tell that something was wrong. Soon, they announced it."
Rod Sigman, passenger: "When we were up in the air, they had let us know that their was some problem with the hydraulics on our flight"
According to an airport spokesperson, there was something wrong with the airplane's brake hydraulic system. Emergency crews were put on standby after getting word of the problems.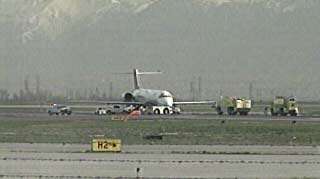 There were about 120 passengers on board the plane. Passengers that spoke to KSL said that they were concerned, but not panicked. Flight gave directions to those sitting next to emergency exits.
Once the plane was on the ground, there was clapping, and a sigh of relief.
Rod Sigman, passenger: "I looked out the window and saw the emergency vehicles, and the fire trucks, and things of that nature. I felt very much comfortable with the situation, know that they were prepared in case there was an issue."
Eventually the plane was towed to a gate, and passengers were able to disembark.
×
Most recent Utah stories