Estimated read time: 1-2 minutes
This archived news story is available only for your personal, non-commercial use. Information in the story may be outdated or superseded by additional information. Reading or replaying the story in its archived form does not constitute a republication of the story.
(Sample Driver Privilege Card)
SALT LAKE CITY -- The current Driving Privilege Card (DPC) is getting some updates effective immediately.
The new DPC, issued by the Utah Driver License Division, will have a new format and color and will contain the same data elements and security features as the current driver license and identification card.
Those with a valid DPC need not do anything at this time. The immediate change affects those applying for a new DPC or renewing a current DPC.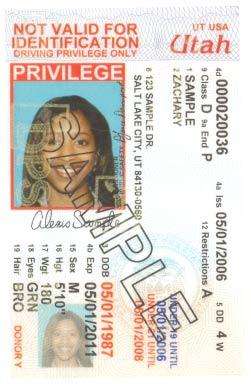 The process to obtain the card will not change.
The Department of Public Safety says the changes are necessary because of the federal REAL ID Act, which prohibits the Utah DPC from being used to access certain federally regulated buildings and commercial aircraft.
REAL ID also requires that DPC's look significantly different from the regular driver license.
The Department of Public Safety has also received complaints that the DPC looks too similar to driver licenses.
Since DPC's expire within one year, the division anticipates it will take until September 2010 before all DPC's have been replaced with the new card design.
DPC's may not be used for:
May not be used as proof of age for the purchase of alcoholic beverages
May not be accepted by any governmental entity as a proof of identification and/or age
May not be used as proof of identification for the purpose of purchasing certain controlled substances
May not be used as proof of identification for the purpose of purchasing a firearm
×
Related links
Most recent Utah stories