Estimated read time: 1-2 minutes
This archived news story is available only for your personal, non-commercial use. Information in the story may be outdated or superseded by additional information. Reading or replaying the story in its archived form does not constitute a republication of the story.
RIVERTON -- At a small warehouse in Sandy Wednesday, Kelly Eissinger worked as an assembler--one of her many duties.
"Owner, president, treasurer, secretary; all of the above? Customer service, accounts payable, receivable; I'm it," Eissinger said.
Her product is the iBert safe-T-seat--a twist on the traditional rear bike rack seat, which is known to be tippy. This child seat mounts to the front of the bike instead of the back.
The idea came 10 years ago when Eissinger first saw a European bike seat. She and her husband developed an easier mount system and launched their company four years ago.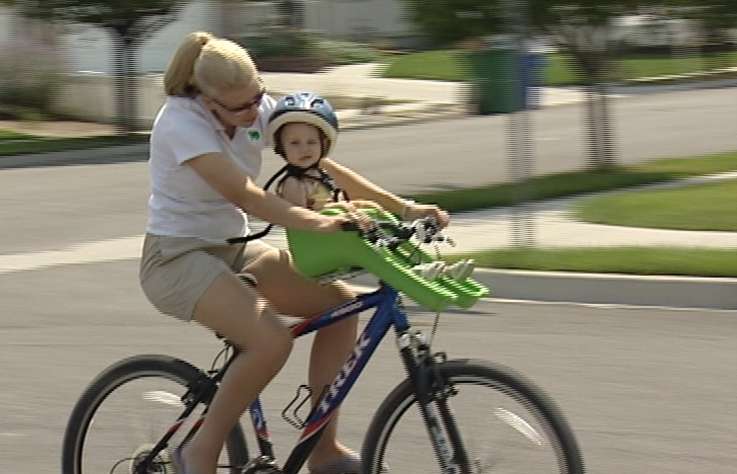 "We started in our basement. We were actually building all of this in our basement and able to handle it," Essinger said. "But then you start getting these orders for 500 at a time, and you can't do it in your basement anymore."
Business has grown steadily--roughly doubling each year--from selling 1,200 annually to 24,000 last year.
"I've known about it for a few years, and I'm amazed that it has done so well and that so many children can benefit from it," said Michelle VanLaningham, Essinger's friend.
Eissinger says the biggest test was the original decision to apply for a small business loan.
"IT's a really big first step, though, and I'm glad I did it because had I not, then I would have always wondered what would have happened," she said.
Now, even the kids of Hollywood stars like Tori Spelling ride in her the frog-green seat. Not bad for a business that started in a basement.
This past spring, REI added the iBert seat, which retails for $95, to its website. Next up for the company: a move to a new warehouse.They need more space.
E-mail: jdaley@ksl.com
×
Related links
Most recent Utah stories