Estimated read time: 2-3 minutes
This archived news story is available only for your personal, non-commercial use. Information in the story may be outdated or superseded by additional information. Reading or replaying the story in its archived form does not constitute a republication of the story.
SALT LAKE CITY -- The 800 North bridge over Interstate 15 remained closed Saturday as crews assessed the damage from a tank that smashed into the overpass earlier in the day.
Motorists faced a traffic nightmare as crews worked for three hours to remove the empty diesel storage tank left suspended from the overpass.
The driver of the semitrailer hauling the tank north to Box Elder County thought the load would pass under the bridge. When it hit around 11:30 a.m., the tank became wedged and hung several inches from the ground.
---
It was a real bad sound. I thought the refinery had blown up.
–Don Draper, resident
---
Resident Don Draper was sitting on his front porch near 800 North at the time. He wasn't sure what he heard. "It was bad," he said. "It was a real bad sound. I thought the refinery had blown up."
The Utah Highway Patrol says the overpass sits at 15 feet nine inches and the tank slammed into the bridge almost two and a half feet above that.
UHP's Jason Hunter said, "These accidents could be deadly with these oversize loads not adhering to these height restrictions."
From Chopper 5 we could see the tank wedged into the south side of the bridge. UHP says the bridge took a hit-- the tank pushed in and bent a beam on the south side.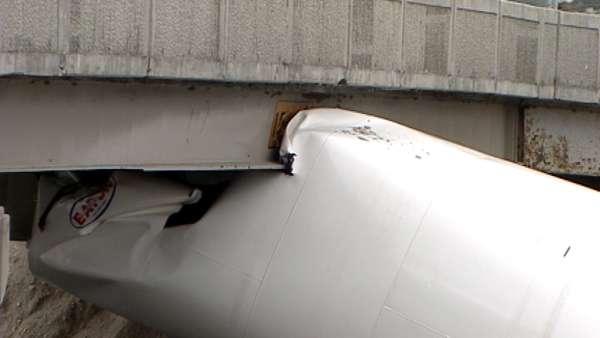 Officers shut down northbound lanes and diverted traffic to I-80. Southbound lanes were closed briefly so crews could use a forklift to pull the tank out from under the bridge. All lanes are now reopened.
UHP is investigating why the semi went under the bridge with such a large load. Hunter says the driver had detoured off his assigned route.
"With wide loads or oversize loads, they have to go through the port of entry for assigned specific routes. There will be a citation issued," he said.
No one was injured in the incident.
Two more accidents on I-15
Around 1:45 p.m. an accident on I-15 northbound in Alpine caused a major traffic backup, as well.
A semitrailer rolled on its side, blocking three lanes of traffic. Two people in the semi were not hurt.
Then around 4 p.m. another accident tied up traffic on I-15 southbound in Clearfield.
The UHP says a Jeep Cherokee was heading south. The driver looked down momentarily, but in that time traffic slowed in front of him. He overcorrected to avoid the traffic, causing the Jeep to flip.
Four people were in the vehicle. Two of them were taken to the hospital as a precaution.
E-mail: aforester@ksl.com
×
Photos
Related links
Related stories
Most recent Utah stories