Estimated read time: 2-3 minutes
This archived news story is available only for your personal, non-commercial use. Information in the story may be outdated or superseded by additional information. Reading or replaying the story in its archived form does not constitute a republication of the story.
SALT LAKE CITY -- Next Thursday is the annual Battle of the Brothers--the football battle between Utah State and the University of Utah.
The pigskin battle has been pretty one-sided between the schools over the past two decades--the last time the Aggies beat the Utes was back in 1997. But the battle of the blood is a different story. The Aggies own this battle hands, or arms, down.
On Monday, the eighth annual Blood Battle began in Logan. According the Dave Knighton, USU service vice president, the Aggies have defeated the Utes seven out of eight years.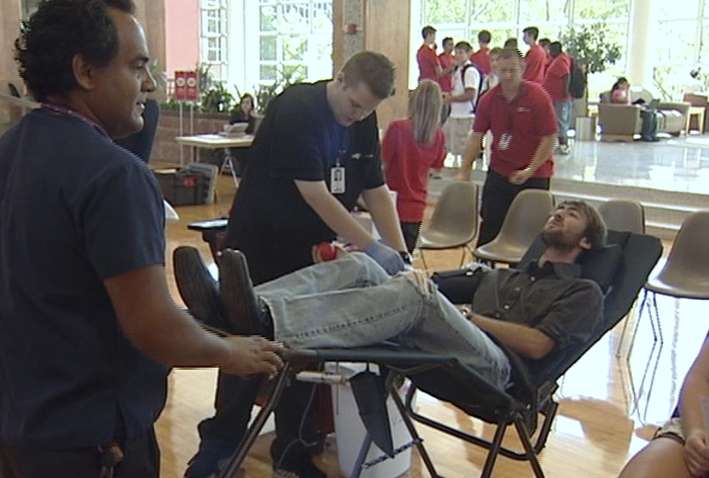 "And this year, we have big plans to beat them again!" Knighton said.
The Aggies' contest ended Friday. Though they haven't released their final numbers, their goal was 1,700 total donors.
Tiffany Evans, director of USU's Student Involvement Leadership Center, said there's much more to it than just beating Utah.
"It's a great tradition," Evans said. "Our students are awesome! They started this in '01. It's a great momentum builder, and it's a great way to give back to the larger communities. It's a great way to kick off our Welcome Week, but also give something back."
The Utes' Bleed Red contest started Friday and will end next Thursday two hours before kickoff at Rice Eccles Stadium.
ASUU Director of Community Service Stanley Lloyd noted that the Utes get the better of the Aggies on the football field, but as far as the number of blood donors, he said there is a reason the Aggies win.
"A lot of it is how diversified the 'U' campus is. There's not really a central hub, like USU, where everybody passes through," Lloyd said. "But in the end-all, be-all, we end up putting a lot more heart into it!"
Utah freshman Tyson Verhaal was donating blood at Utah's Union building Friday morning. He said he hopes he can change the history of USU dominance in the competition.
"I'm doing my part. I know that," Verhaal said.
For other Utes who want to do their part, call 801-581-2788 for donation locations. The winner of this year's blood battle will receive a trophy during halftime of next Thursday's football battle.
E-mail: kaiken@ksl.com
×
Most recent Utah stories