Estimated read time: 2-3 minutes
This archived news story is available only for your personal, non-commercial use. Information in the story may be outdated or superseded by additional information. Reading or replaying the story in its archived form does not constitute a republication of the story.
BLUFFDALE -- The Bluffdale man shot while on Neighborhood Watch last month may be out of the hospital at the end of the week, and his neighbors are getting ready for his homecoming.
David Serbeck has a reputation for helping his neighbors. Now they're giving something back to him.
Serbeck's mother-in-law, Beverly Olson, was at Wednesday's fundraiser and couldn't believe the show of support.
"Dave is one of the most wonderful guys you could ever meet. He deserves this, he and his family," Olson said.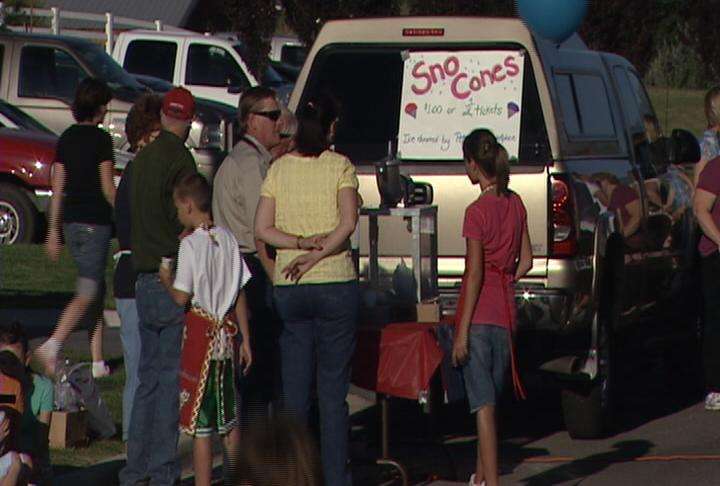 Members of the Parry Farms subdivision in Bluffdale gathered at the Bluffdale City Park to raise money for Serbeck and his family. There was food, activities for the kids and a raffle.
Thirty minutes into the fundraiser, there were about 300 people there and organizers had raised several thousand dollars. They plan to use the money to retrofit Serbeck's home and help pay for medical bills.
Jeff Anderson, who organized the event, said, "He's not ever going to walk again. We can't change that, but we can change the perception, the feel, and what we do for him to help out."
Neighbor Lisa Childers, who doesn't know Serbeck, said,"I think it helps make us all realize that we're, just that we need to pull together at any time. And I think the situation that happened, it could have happened anywhere to anybody."
Serbeck was shot last month while on Neighborhood Watch patrol. The bullet severed his spinal cord, leaving him paralyzed from the chest down, but he can still use his arms.
Prosecutors charged Reginald Campos with attempted murder. Campos, who also lives in the neighborhood, confronted Serbeck because he thought Serbeck was harassing his daughter. Campos told 911 dispatchers he fired in self-defense.
Neighbors say they don't want the shooting to divide the community.
Serbeck's mother-in-law says Serbeck hasn't talked about it and just wants to move past it. She says Serbeck wants to come home and get back to his life and help his neighbors again.
Organizers have set up a fund under David Serbeck's name. Donations can be made at any Wells Fargo Bank*.
E-mail: syi@ksl.com
×
Related stories
Most recent Utah stories