Estimated read time: 2-3 minutes
This archived news story is available only for your personal, non-commercial use. Information in the story may be outdated or superseded by additional information. Reading or replaying the story in its archived form does not constitute a republication of the story.
LAYTON -- Police in Layton are seeing scary numbers during surprise inspections on commercial vehicles: nearly 70 percent had critical safety violations. The rigs were taken off the street until they were fixed, but police say the problem is far from solved.
Inspecting a truck only takes Layton police officer Ryan King a few mintues, but it's enough time to spot potential problems.
"He did relatively well," King said. "We identified a couple of tire issues, minor issues."
Last week, however, it was a different story. Together with the Utah Highway Patrol, Layton police stopped 47 commercial vehicles on a busy city road; 36 had safety violations severe enough to be "red tagged," meaning they couldn't be driven until the violation was fixed.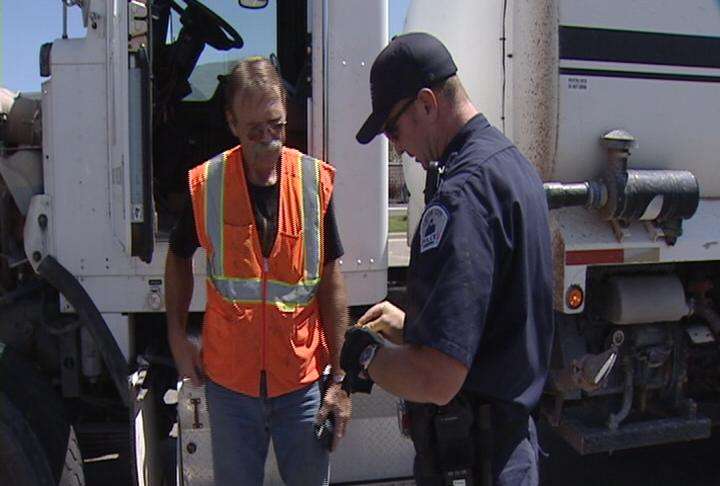 "I'm not surprised anymore, unfortunately," King said.
Among the problems, non-functioning turn signals, emergency signals, brake problems and poorly-secured loads; and that wasn't all.
"We had several drivers who weren't properly licensed, or their license had been suspended," King said.
But that's not to say all trucks and trucking companies are dangerous. At truck driver Ken Bair's company, pre- and post-trip inspections are done before every trip.
"We identify any problems, write 'em up, give 'em to the shop," Bair explained.
The tire issues with his truck aren't in violation yet, and he was happy for the heads-up from King that they will soon need work.
"Not only am I at risk if there's a problem, but the people driving near me are as well," Bair said.
Truck safety is really everyone's issue on the road. The most common problem was the unsecured loads, and that's something police say the public can help them combat on a daily basis.
"If you're seeing uncovered loads and material--be it sand, or car parts, or things coming off the vehicle directly--certainly contact the local authorities," King said.
Truck drivers and police add that you can help even more by always being aware of a truck's blind spots and giving them adequate room to brake and turn.
E-mail: sdallof@ksl.com
×
Most recent Utah stories