Estimated read time: 4-5 minutes
This archived news story is available only for your personal, non-commercial use. Information in the story may be outdated or superseded by additional information. Reading or replaying the story in its archived form does not constitute a republication of the story.
SALT LAKE CITY -- Gary Herbert has been sworn in as Utah's 17th governor following the resignation of Jon Huntsman, who is now the U.S. ambassador to China.
Herbert took the oath of office Tuesday at the Utah State Capitol about an hour after the resignation of Huntsman, who immediately took the oath to become ambassador.
Huntsman resigns, takes oath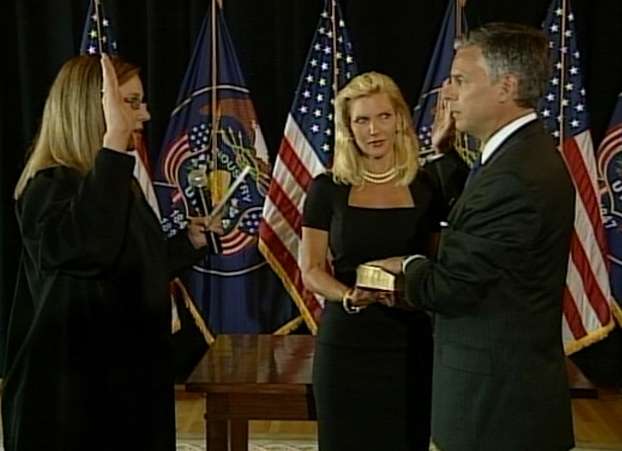 Huntsman's resignation took place in the Gold Room in front of a room full of family and state and federal officials. In resigning, Huntsman thanked key people in the state and received a standing ovation from the crowd.
In farewell remarks from Huntsman, the now ex-Utah governor said he was filled with a sense of emptiness upon leaving the best job he's ever had. His remarks came at the inaugural ceremony for Utah's next governor, Gary Herbert.
Huntsman pointed out the importance of representing all groups of people. He said, "As governor, my goals have been to progress the interests of all Utahns in ways that calibrate needs of tomorrow not today, in interests not based on insulate rhetoric but on real results."
---
I am turning over to you a great treasure. Your challenge is to improve its luster.
–Jon Huntsman to Gary Herbert
---
Huntsman's farewell address also was full of optimism for the future and for Herbert's administration.
"Upon leaving, I am convinced Utah is better equipped than ever to meet our future needs," Huntsman said.
Addressing Herbert directly, Huntsman said, "I am turning over to you a great treasure. Your challenge is to improve its luster. I know you will thrive, my friend."
"Gary Herbert ... has been a dedicated team player who has shown a sense of service and devotion that will ensure continued success for a state that deserves only the very best," Huntsman said.
Herbert inaugurated as Utah governor
The inauguration ceremonies brought dignitaries from across the state. They packed the Rotunda to see Herbert take the oath of office.
Former American Idol star Carmen Rassmussen-Herbert sang The National Anthem. Greater Salt Lake Diocese Bishop John Wester began the formal portion of the ceremony with the invocation, and The Church of Jesus Christ of Latter-day Saints' President Thomas S. Monson gave the benediction. Both asked for "wisdom and faith as Herbert embarks on a mission of diplomacy and service to the state of Utah."
To a standing ovation, Herbert waved to the crowd in the rotunda. A 19-gun salute followed the official oath.
In his first remarks as governor, Herbert started by saying, "Hi Mom and Dad!"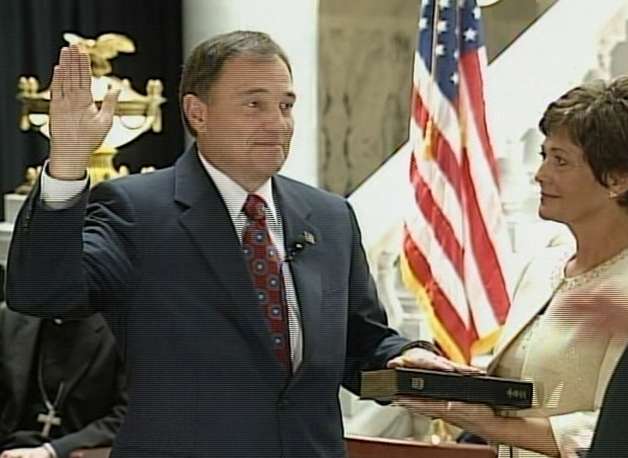 "Over the last four and a half years, Utah has enjoyed significant strides forward," Herbert continued. "Thanks to Governor Huntsman, we are well-equipped to confront what is ahead of us. It is time for unprecedented partnerships. These are times when storm clouds seem to be brewing."
"For the people of Utah there is reason to feel good, but there is still work to do," he said.
In an interview after the inauguration ceremony Herbert said, "There's going to be some continuity from the past administration to today. There's not going to be a great Earth shift that takes place. I'll have my own style. I'll be out and about, and travel a lot. I will bring people together, all sides together, to find common ground."
Herbert names priorities
Herbert has three priorities: Economic development, education and energy.
On education, Gov. Herbert said, "As we come together as parents, students, community mentors, we can and we will meet the growing educational needs we face and become a shining example of what a world-class education system looks like."
Related:
Herbert hit a couple conservative notes during his address. He talked about encouraging free enterprise, or capitalism, in his words.
"I pledge to you, Utah will be a leader in promoting free enterprise," he said. "Our success in the future is directly tied to our commitment to education."
"I am telling you, protecting our environment and meeting our energy needs are not mutually exclusive ideas. In meeting energy needs, Utah's role will be second to none," he said.
Herbert also said he wants Utah's government to be fiscally responsible.
"I reiterate my commitment to fiscal responsibility. Simply put: Don't spend more than you earn and live within your means," he said.
Herbert also got big applause when emphasizing states' rights, praising the military, and noting Utah's natural beauty.
"I'm here to tell you that protecting our extraordinarily natural wonderment and meeting the pressing energy needs that we have in America are not mutually-exclusive ideas," he told the crowd.
Herbert is expected to be much more conservative than Huntsman, who is seen as a more moderate Republican. But his challenges with the state budget will be difficult, no matter how he comes down politically.
------
Story compiled with information from Richard Piatt, Mary Richards, and The Associated Press.
×
Photos
Related stories
Most recent Utah stories