Estimated read time: 2-3 minutes
This archived news story is available only for your personal, non-commercial use. Information in the story may be outdated or superseded by additional information. Reading or replaying the story in its archived form does not constitute a republication of the story.
AMERICAN FORK -- High school football players in Utah County are getting an added piece of safety equipment, thanks to a local dentist. By protecting their teeth, they're actually guarding against a serious brain injury.
We visited American Fork High School on picture day for the football team. Tough players flashed their pearly whites as they posed for the camera. Their coach knows protecting those smiles is important to players and their moms.
"It's been a long time since I've had a boy break a tooth or lose one. You don't want to take a boy home from practice missing front teeth," said coach Davis Knight.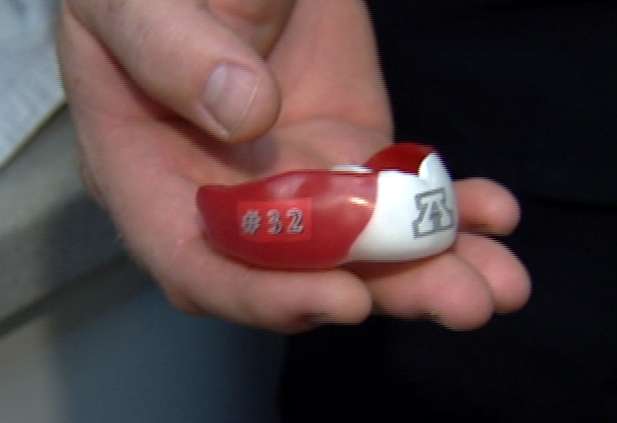 That's one reason many players start the season in the dentist office. Dentist Greg Pitts has made it his mission to provide players with custom mouthpieces.
"Breathe deep through your nose. Dream about your girlfriend or sitting on the beach in Hawaii or something," Pitts tells the players he fits them for a mouth guard.
These guards fit more precisely than the ones off stores shelves.
"The benefit of a custom mouth guard is it's going to give the player adequate protection during impact," Pitts explained.
And that safeguards more than their teeth; it protects their brains.
"It works to absorb all that force, rather than generating it through the skull and basically causing a concussion," Pitts said.
Back on the field, players have come to appreciate the importance of mouth guards.
"I've had a concussion before, and it hurts a lot," said football player Cade Zarbock.
Teammate Matt Healey said, "I just thought you got a concussion from hitting your head real hard."
And showing off the team letter as they smile to their opponents isn't a bad feature either.
Pitts says this is his way of serving the community and keeping alive his passion for football.
E-mail: dwimmer@ksl.com
×
Most recent Utah stories