Estimated read time: 4-5 minutes
This archived news story is available only for your personal, non-commercial use. Information in the story may be outdated or superseded by additional information. Reading or replaying the story in its archived form does not constitute a republication of the story.
SALT LAKE CITY -- Lt. Gov. Gary Herbert has tapped Senate Assistant Majority Whip Greg Bell to succeed him as lieutenant governor once he's sworn in as the state's top executive.
Herbert presents Bell as lieutenant governor
The announcement was made Wednesday in the State Capitol's Gold Room, with family, friends and colleagues looking on.
"I love this state. I love the people who live here. I reach out to every citizen with the hope that all are included and will feel included in our community," Bell said.
When introducing his expected second-in-command, Herbert said he felt very comfortable with Bell.
"It's a great day for me and a great day for the state of Utah," Herbert said.
He says, when choosing Bell, he looked at the three Cs: capability, commitment and compatibility.
Bell is considered a moderate and regarded by many as a good balance to Herbert, who is a conservative from Utah County.
"I'm not looking for somebody that's a clone of myself--one of me is enough. I want to find somebody who broadens my experience, broadens the appeal and is able to represent, on a more broad base, the people of Utah. I think that's healthy," Herbert said.
Related:
"I'm conservative in principle and moderate in tone," Bell said. "I think a lot of comments from people across the spectrum have said they feel comfortable approaching me, that I've given them an honest, intelligent understanding of their issues whether I agree with them or not."
Bell says he got the official invitation Tuesday night, after a full investigation.
"He's [Herbert] very circumspect, very methodical; and he worked me over. He vetted me, he went through my background, he asked lots and lots of questions," Bell said.
Future plans for the Herbert-Bell administration
The next governor says the Herbert administration has two top priorities: strengthening the economy and strengthening public and higher education. Herbert also says he expects the state's budget to still be similar to this year, still difficult, not much better, but not much worse.
Bell says he will work closely with the Legislature.
"You can be assured we will continue to be the best-managed state with excellent credit and balanced budgets," he said.
This pick will be subject to confirmation by the Utah Senate.
Reaction to Bell's nomination
Meanwhile, BYU political science professor Kelly Patterson tells KSL Newsradio it was a wise decision on Herbert's part because it will help him win support among the more moderate Republicans in the state.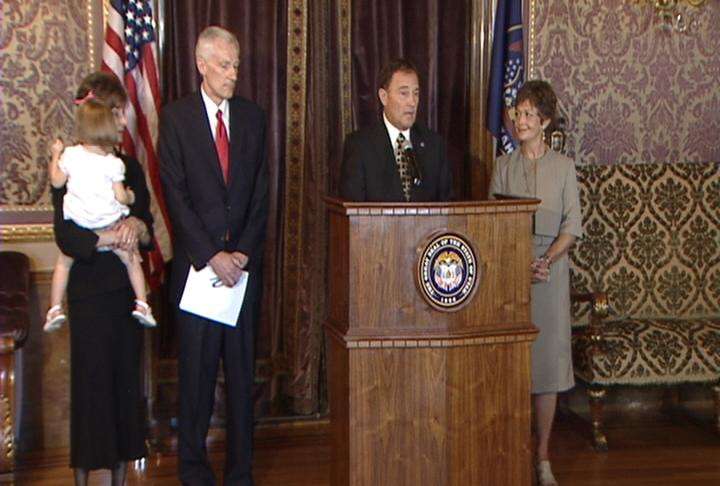 "I think Lt. Gov. Herbert's issue has always been with the moderate wing of the Republican Party," Patterson said. "He has a very strong base of support among conservatives, and this pick will probably help him reach out to some of those more moderate Republicans. If you are thinking electorally, then once again I think this is a smart move," he said.
"I think Senator Bell is an excellent pick for lieutenant governor. He's just very statesmanlike. He does his homework; very well-respected in all circles. Even his opponents have to respect what he's done and where he stands on issues," said Rep. Paul Ray, R-Clearfield.
Senate President Michael Waddoups said, "Senator Bell is north; Governor Herbert is south. Governor Herbert is a little more conservative than Senator Bell. He might at a little moderation to the ticket, good balance. He's certainly been an asset to the Senate team."
Utah Democratic Party Chairman Wayne Holland, on the other hand, used Bell's nomination as a rallying cry to raise money for the party. A Democrat hasn't been governor since Scott Matheson left office in 1985.
"Bell has been considered a moderating influence in Republican legislative circles. Of course, that is only by comparison to the notoriously radical Sen. Chris Buttars of West Jordan," Holland wrote supporters. "Bell has been elected a leader from the Republicans who have failed our children by gutting education spending."
The inauguration process
Herbert will become the state's 17th governor once Gov. Jon Huntsman resigns. Huntsman is expected to be confirmed by the U.S. Senate as ambassador to China.
It was unclear when the Senate might vote on Huntsman's nomination, although Herbert's staff was planning for an inauguration ceremony for him next week.
Bell will also run for re-election with Gary Herbert in 2010. He has pushed for stronger gift-giving and ethics rules, and opposes gay rights legislation and gay marriage.
Before his time in the Legislature, Bell was mayor of Farmington for two terms and also was chairman of Envision Utah.
------
Story compiled with contributions from Randall Jeppesen, Mary Richards, John Daley and Brock Vergakis of the Associated Press.
×
Related stories
Most recent Utah stories