Estimated read time: 2-3 minutes
This archived news story is available only for your personal, non-commercial use. Information in the story may be outdated or superseded by additional information. Reading or replaying the story in its archived form does not constitute a republication of the story.
TAYLORSVILLE -- A Taylorsville family returned from a camping trip Sunday to find their home in ruins. Everything they own went up in flames, and it took most of the day for them to find out about it.
Fire roared through the home about 5:30 a.m. Sunday. The Collard family wasn't reached by phone until late afternoon, when they finally learned what they were coming home to.
It was the kind of homecoming no one should have to go through. The Collard's SUV pulled up in front of a mess of ashes, their home, as they tried to let the reality sink in.
"You just take one minute, one hour. That's all I'm to. I haven't even gotten to one day at a time," said homeowner Tracy Collard.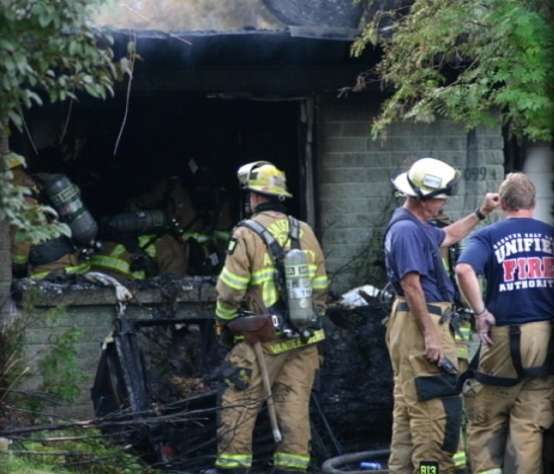 While they were away camping, almost everything they've accumulated since they bought the house in 1991 went up in smoke. "It goes through your head. You walk through the house," said Brooke Collard, Tracy's husband. "24 years of being married. 24 years of memories. All of our kids."
Neighbors captured some of the overnight disaster in home video and photos. Fire officials say the blaze was probably accidental.
"Everything's a possibility at this point, but I don't think there's anything been reported to be suspicious in this cause," said Capt. Clint Smith with the Unified Fire Authority.
Neighbors held a vigil of sorts all day, waiting to greet and assist the family. They also began collecting pledges of clothing, food, furniture and money.
"The neighbors have just been pouring out their hearts and offering any assistance," said John Taylor, a ward bishop with the Church of Jesus Christ of Latter-day Saints.
Neighbor David Candland says his heart goes out to the family. "We just want to help, you know? I don't know them personally at all, but it doesn't matter. Just what you're supposed to do. You don't even think about it. You just do," he said.
The Collards say they are moved by the response from the neighborhood. "It's wonderful. We appreciate everything. Just get through one day at a time," said Tracy.
The Collards also say they hope their experience will be a lesson to others.
Brooke said, "Well you know if anybody can learn anything, put your important stuff in a firebox. We had no fire protection."
They did have fire insurance, so they think they'll be OK financially. "It's OK. It's stuff. Our daughter's safe. We're OK," said Tracy.
They did have smoke detectors, which could still be heard quietly chirping in the wreckage when they returned 14 hours after the fire.
E-mail: hollenhorst@ksl.com
×
Photos
Most recent Utah stories