Estimated read time: 2-3 minutes
This archived news story is available only for your personal, non-commercial use. Information in the story may be outdated or superseded by additional information. Reading or replaying the story in its archived form does not constitute a republication of the story.
The Jewish Holiday of Hanukkah began this evening at sundown and will continue for eight days.
This time of the year marks a special anniversary of sorts for Rabbi Benny Zippel, and Carole Mikita visited with him about that.
But, Benny Zippel's reach extends to many young people who have become like extended family to him. This part of his mission began during Hanukkah, the celebration of lights.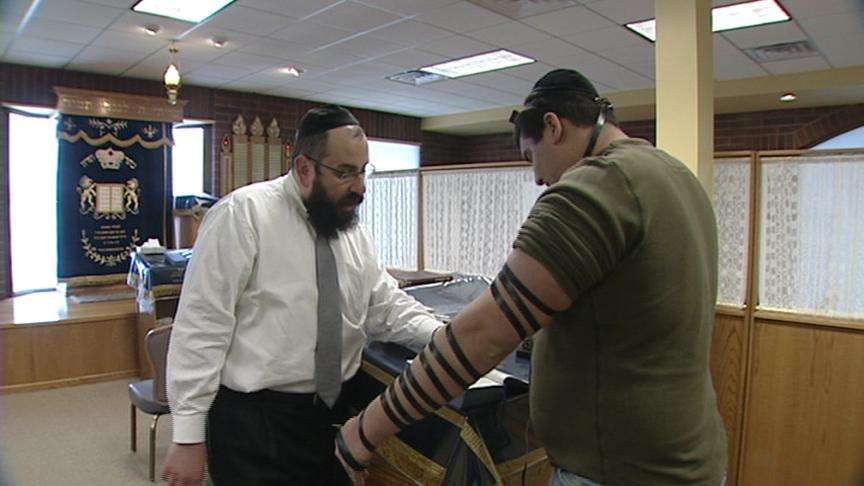 Those who participate in wrapping the tefillin believe it to be an important Jewish ritual which creates a spiritual bond.
For the last 14 years, Rabbi Benny Zippel has spent hours every week, doing just that...counseling with hundreds of young people in therapy.
Rabbi Benny Zippel, Chabad Lubavitch of Utah: "To allow each and every one of these young people to acknowledge and come to terms with the wealth of goodness that exists within them."
Jason Peloso, UVSC student: "When I met the rabbi, I was very excited. There was just something in my heart that came out. I was able to really connect with him."
For those of the Jewish faith this is the holiday of lights, and the young people say that is exactly what the rabbi does for them, help them to find light in their lives.
Jason Peloso: "It's just a great experience when he comes by, you know, there's a light that comes in with him."
Brent Hall is head of a therapeutic boarding school in Provo with 74 thirteen-to-eighteen-year-olds from out of state. He describes his students as bright underachievers and has high regard for Rabbi Zippel's mentoring.
Brent Hall, Exec. Dir., Discovery Academy: "There's something about the things that he stands for that helps them to connect with who they wanna become. Even if it's not a rabbi, it's certainly a more productive member of society."
Hands on spiritual guidance, designed to bring young people back together with their families and their Jewish faith, here in Utah.
Rabbi Zippel: "The true reason why we end up where we are is because G-d had something in store for us."
Rabbi Zippel will host the lighting of Utah's largest ice Menorah at the Gallivan Center this Sunday afternoon from 3:00 to 5:00. The public is invited.
×
Most recent Utah stories