Estimated read time: 2-3 minutes
This archived news story is available only for your personal, non-commercial use. Information in the story may be outdated or superseded by additional information. Reading or replaying the story in its archived form does not constitute a republication of the story.
COTTONWOOD HEIGHTS -- Office vacancies in the Salt Lake Valley are at a four-year high, according to a new report by a local commercial real estate firm.
CB Richard Ellis said the average office vacancy rate in Salt Lake County is 14.2 percent. That's up from 13.5 percent at this time last year. The economy, of course, is to blame.
"With the economic downturns that we've had over the last year or so, we've just had companies downsizing," Kreg Peterson, a vice-president for office space at CB Richard Ellis, said in an interview Friday with KSL NewsRadio.
Many businesses have broken leases to reduce the amount of office space they take up or moving to smaller places. That leaves a lot of office space in the Salt Lake Valley.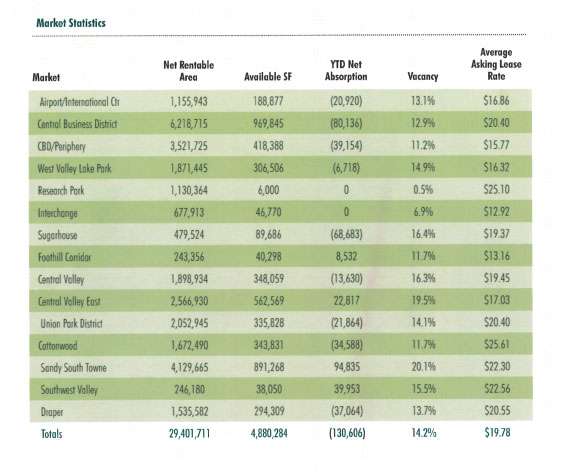 "They're very cautious on taking additional space," Peterson said of companies. "So they're just waiting on the sidelines to see what happens with the economy."
Some areas have more vacant space than others. According to the market report, Research Park near the University of Utah, has only a 0.5 percent vacancy rate. The downtown Salt Lake City area is still somewhat desirable with vacancy rates around 11 to 12 percent. One skyscraper still being built already has a quarter of its property pre-leased.
The worst is in the Sandy/South Towne business area, where vacancy rates have climbed to a staggering 20.1 percent.
"A lot of that is due to buildings that were under construction that have now come online and just a lot of bad timing with that," Peterson said.
Some office buildings were being erected on speculation--when the economy was flush--and did not have any tenants pre-leased. When the economy turned, they are now left with empty buildings.
For businesses that are moving into Utah, it is a buyer's market. Prospective tenants are able to push for better allowances and even free-rent periods.
In the Cottonwood Corporate Center, Peterson said one company is leasing office space for $28 per square foot and subleased the same space for $20.
"It's actually a great time, right now, for tenants that are financially and strategically well placed to take advantage of the market," he said Friday.
The next quarter's vacancy rates will likely continue the trend, Peterson said, but there appears to be a light at the end of the tunnel by the end of the year. "We're very, very cautiously optimistic," he said. "We've hopefully hit bottom and we're coming back up."
E-mail: bwinslow@ksl.com
×
Most recent Utah stories