Estimated read time: 2-3 minutes
This archived news story is available only for your personal, non-commercial use. Information in the story may be outdated or superseded by additional information. Reading or replaying the story in its archived form does not constitute a republication of the story.
News ReleaseSALT LAKE CITY -- The Salt Lake Bees, in conjunction with Triple-A Baseball and the Pacific Coast League (PCL), announced today that the Bees, Salt Lake City and Spring Mobile Ballpark have been selected to host the 2011 Triple-A All-Star Game. This will mark the first time that a franchise and city have hosted the event twice at the same ballpark. The 1996 Triple-A All-Star Game was held at Franklin Quest Field when the Buzz were the home team.
"We're honored to bring the Triple-A All-Star Game back to the great baseball fans of Salt Lake City and the state of Utah," said President of Larry H. Miller Sports & Entertainment, Randy Rigby. "We welcome the opportunity to showcase Major League Baseball's top prospects and future stars."
The five-day event will take place July 9-13, 2011 and will feature a home run derby, autograph sessions, an All-Star Gala, and a myriad of other activities all culminating in the Triple-A All-Star Game on July 13, featuring players from Minor League Baseball's top two circuits, the Pacific Coast and International Leagues. The head-to-head contest is televised nationally.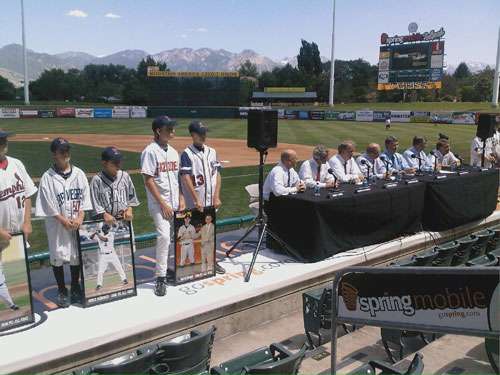 "Salt Lake City is honored to host the 2011 Triple-A All-Star Game," stated Salt Lake City Mayor Ralph Becker. "As a City we have a great deal to offer the players, fans and league executives. We have the most beautiful ballpark in the nation in our City, great food, activities and outdoor recreation for anyone, no matter what your interests are. I look forward to the game and all it brings to Salt Lake City."
The annual mid-summer classic, which rotates each year between International League and Pacific Coast League host cities, will be played in Portland, Ore., on July 15, 2009 and in Allentown, Pa., on July 14, 2010. All 30 organizations that comprise Major League Baseball are annually represented with at least one player in the Triple-A All-Star Game.
"Salt Lake City has a wonderful legacy in the PCL. The 1996 All-Star experience was great for every team in the league and there is widespread enthusiasm about returning," said Pacific Coast League President, Branch Rickey. "This is a positive reflection on the Larry H. Miller organization and Salt Lake City to be asked by the League to host such a prized and sizable event."
Current Bees players Terry Evans, Jeremy Hill and Brandon Wood were all three named 2009 PCL All-Stars and will represent Salt Lake at the Triple-A All-Star Game in Portland, Ore. on July 15. Bees infielder Matt Brown headlined the 2008 Triple-A All-Star Game, sparking a PCL scoring rally with two hits and one RBI. The PCL outscored the IL 6-5 in Louisville, Ky., and Brown was named PCL Top Star of the Game, a first-time award for a Salt Lake All-Star.
Tickets for the 2011 Triple-A All-Star Game and corresponding events will initially be made available to Salt Lake Bees season ticket holders in the summer of 2010. Additional details, including event pricing, will be made available in the months to come.
(Courtesy Salt Lake Bees)
×
Most recent Utah stories