Estimated read time: 3-4 minutes
This archived news story is available only for your personal, non-commercial use. Information in the story may be outdated or superseded by additional information. Reading or replaying the story in its archived form does not constitute a republication of the story.
DAVIS COUNTY - Drivers in Davis County are being put on notice: "Obey the sign or pay the fine." The Utah Highway Patrol and at least 10 other police agencies are taking advantage of a federal grant to enforce speed limits from neighborhoods to major roadways.
About $150,000 will pay for up to 45 overtime shifts every month through September.
The campaign isn't only interstate enforcement; several departments will work together in Davis County to slow down speeders in your neighborhood, on business thoroughfares and out on I-15.
Col. Daniel Fuhr, with the Utah Highway Patrol, says "It's really up to every citizen in this state who gets in a vehicle and operates that vehicle on Utah roadways, that they make a conscious decision to obey the laws."
Bountiful police officer Jon Purcell does not have to fish too long to catch speeders. We were on a ride along when he clocked a driver doing 46 mph in a 35 miles-per-hour zone.
Officers along the Wasatch Front regularly see drivers going at speeds 20 miles per hour above the posted limits. "Ultimately, for law enforcement as a whole, it's about public safety," says Purcell.
On the Legacy Highway in Woods Cross, Officer Adam Osoro didn't have a problem finding speeders Tuesday morning.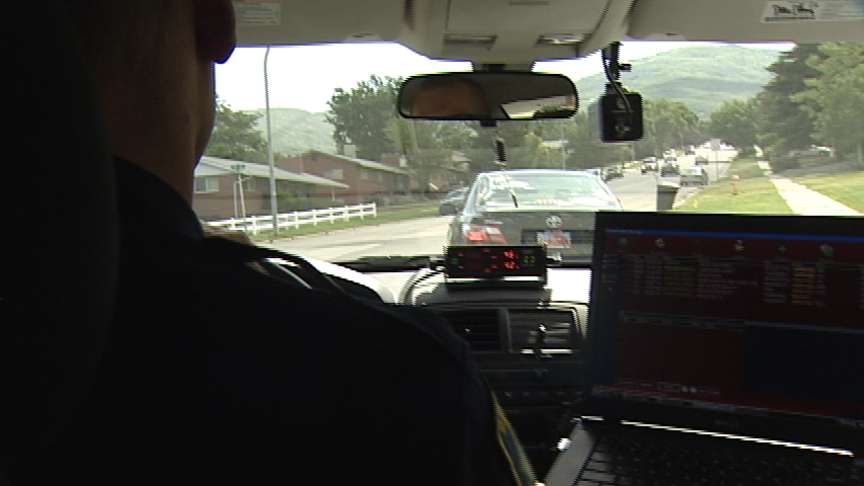 "I don't think they think about it at the time," Osoro said. "Most people don't get to see numerous car crashes and the outcomes for making bad decisions."
He recently arrested someone for driving 139 miles per hour on Legacy, which is posted at 55 miles per hour.
They nab speeders in school zones work zones and their own neighborhoods.
Centerville Police Chief Neal Worsley explained, "People tend to drive faster in areas where they are familiar, these being their own neighborhoods."
He says the department gets a lot of complaints of people speeding in neighborhoods. He adds it's a double-edge sword. He said, "It's your neighbors and people you know, that need to be slowing down."
Purcell said, "I'm concerned about my family, my friends who are out here driving."
One reason drivers speed is we don't give ourselves enough time to get where we're going. "I think everybody is just in a hurry to get it done," Purcell said.
The primary focus is not to write as many tickets as possible. It's to get people to slow down and save lives.
In construction zones, the Utah Department of Transportation says motorists drive way too fast, follow too closely and have little time to react to avoid a crash.
Corey Pope, a regional UDOT director says, "Most construction zones on the freeway are between five and 10 miles in length. The difference between driving 55 miles per hour and 65 miles per hour through that 10 mile length is about 100 seconds."
And speed kills, too. In 2007, speed was a factor in 52 percent of Utah's fatal crashes. Speed-related crashes were more than three times more likely to be fatal than other crashes.
Fuhr said, "It's about gaining voluntary compliance, and providing a safe and secure area for the citizens of this great state."
The Utah Highway Patrol says a similar enforcement program in Tooele County last year did help lower speeds in that county, so law enforcement has reason to be optimistic this summer in Davis County.
------
Story compiled with contributions from Marc Giauque and Jed Boal.
×
Most recent Utah stories