This archived news story is available only for your personal, non-commercial use. Information in the story may be outdated or superseded by additional information. Reading or replaying the story in its archived form does not constitute a republication of the story.
SALT LAKE CITY (AP/KSL News) -- A neighbor pleaded guilty Monday to kidnapping and killing a 5-year-old girl whose body was hidden in his cellar for days while hundreds of volunteers fanned across the city to search for her.
Craig Gregerson, 20, was immediately sentenced to life in prison without parole in a deal with prosecutors that spared him a possible death sentence.
For security reasons, authorities are not saying when they'll transport him to Utah State Prison.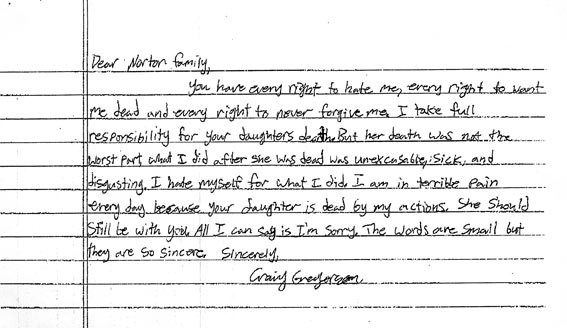 Gregerson offered no explanation for his crimes but gave a handwritten letter to Destiny Norton's parents declaring, "I hate myself for what I did."
"Her death was not the worst part. What I did after she was dead was unexcusable, sick and disgusting," Gregerson said, referring to a sexual assault on the body.
Destiny had been missing for eight days when police found her body stuffed in a plastic storage box in Gregerson's cellar, just two doors away, on July 24.
Authorities believe Destiny died within minutes of the abduction from her backyard July 16. Police said Gregerson lured the barefooted girl into his house, where he covered her mouth to muffle her screams, smothering her.
"You have every right to hate me, every right to want me dead and every right to never forgive me," Gregerson said in the letter to Destiny's family, which was released by 3rd District Court.
He said he took full responsibility for the girl's death.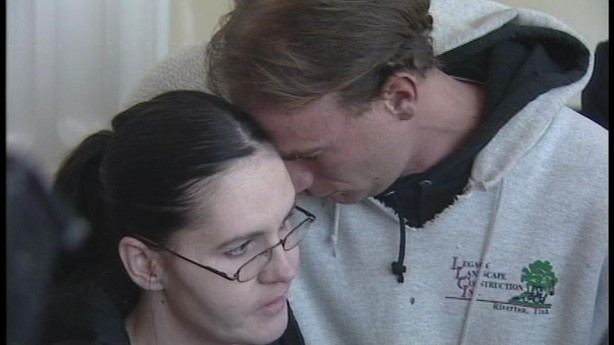 "I hate that man for what he has done to my family," Destiny's mother, Rachael Norton, said in court without looking at Gregerson. "In the end I know God will judge him, and he will pay for what he has done."
Destiny's grandmother, Leslie D. Borchardt, was more blunt, referring five times to Gregerson as a "monster."
"I now know what hate is, and mine is unmatched," Borchardt said in a statement read to the judge by a family lawyer.
Outside court, Destiny's father, Rick Norton, was too overwhelmed to speak with reporters, saying he was leaving to take care of two other daughters, including Faith, who was born five weeks after the murder.
Back in August, Gregerson told KSL's Gene Kennedy in a face-to-face interview that he would plead not guilty. He said he would even take the stand at his trial to explain what happened that day.
We hope to know soon why he changed his mind.
Prosecutor Robert Stott said the plea deal cut short years of trial and appeals and also spared the Norton family of more pain.
"They want it over," Stott said. "They want some peace. They want to be left alone. And they want to make sure Gregerson will never be able to harm anybody else."
Gregerson will live in isolation in a high-security cell except for shower time, and will have to be protected from other inmates who could seek retribution for the killing of a defenseless girl, Stott said. "Every morning, every afternoon, and every night he will have one view, and that view will be of a small prison cell in the maximum security of the Utah State Prison."
"Everything was taken care of like it should have, and he's not going to hurt anyone else," Rachael Norton said. "You know, in the end he will get what he deserves."
He received a separate 15 year-to-life sentence on the kidnapping charge, even though it has no practical effect.
Gregerson's estranged wife was in court but said nothing after the hearing.
Gregerson's plea deal finishes what has been a long ordeal for the Norton family.
Destiny disappeared from her backyard Sunday, July 16, around 8:30 p.m. Her father went to check on her, but she was gone.
Neighbors helped the family search that night. The next morning police put out an Amber Alert, then canceled it a couple hours later because it no longer met criteria.
For a week, police interviewed hundreds of people and followed up on even more tips. Volunteers searched neighborhoods, parks and canyons.
On July 24th, authorities found Destiny's body in Craig Gregerson's basement. They arrested Gregerson and charged him with aggravated murder.
On August 5th, Eyewitness News spoke with Gregerson in the Salt Lake County Jail. He told us he would NOT plead guilty, and wouldn't comment on the case. He did say he had become a "strong advocate against pornography."
Then, the guilty plea.
(The Associated Press and KSL News contributed to this report.)
×
Related Links