Estimated read time: 2-3 minutes
This archived news story is available only for your personal, non-commercial use. Information in the story may be outdated or superseded by additional information. Reading or replaying the story in its archived form does not constitute a republication of the story.
SALT LAKE CITY -- Every day Chad Butterfield goes to work as a security officer for CBI Security hoping to make a difference. Every day was pretty much the same, until Wednesday night.
"I heard some yelling and screaming and saw a male suspect running from a vehicle," Butterfield said. "So, I just approached like I was taught."
Butterfield was patrolling the Foothill Place apartments off 2200 South and Foothill Drive when he heard the screaming. Once he got to the screaming man, he saw he had been shot in both his legs.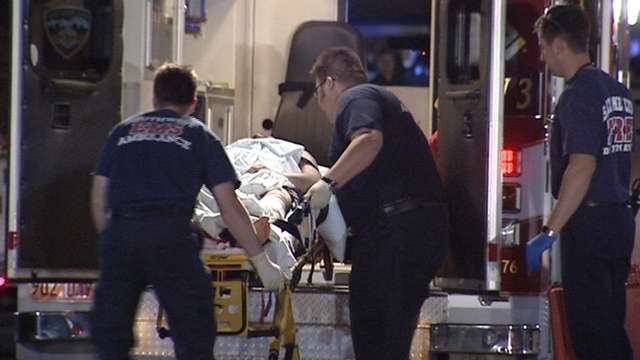 He helped the man out of the car but noticed another man in the distance walking toward them. "The suspect started screaming for our lives, saying he had a gun and he was out to kill us," Butterfield said. "I figured I might be getting shot tonight."
Butterfield rushed to drag the shot man behind another car for cover. He says he never saw a gun on the man walking toward them, but says the man kept a hand in his hoodie pocket. Butterfield figured the gun was inside that pocket.
"The first thing you learn is when you don't see their hand, you have to think there is a gun," Butterfield said.
However, the man coming toward them turned around, got back in the car and drove away. It wasn't until later Butterfield found out the man he had helped was carjacked earlier at 900 West and 800 South in Salt Lake City.
Police know the three carjackers asked for drugs when they carjacked the man but still don't know why they chose him.
Related:
"We don't know whether this was a random act, or if it was an isolated incident, if the suspects knew him and targeted him or not. We just don't know yet," said Salt Lake police Sgt. Robin Snyder.
Butterfield, who was raised in Sandy, has taken several training classes at CBI Security. He hopes to become a police officer in the future and work his way to become a detective.
"I want to help get these drugs off the street and get these gangs out of here," he said. "I'd like to help clean up Utah. It's getting pretty bad."
Greg ValDez, who owns CBI Security Services and is Butterfield's boss, says Butterfield is well on his way to achieving his goals.
"That was bravery beyond what most people would do," ValDez said. "I and the police would not have faulted him for running; nobody would have."
Either way, there's a good chance Butterfield made the difference he was always hoping to do. "People are calling me a hero, but I don't feel like a hero. It's just what we're trained to do," he said.
Salt Lake detectives are still looking for the three men who committed the carjacking, but they did find the stolen car. As for the man who was shot, he is still at the hospital and is expected to live.
E-mail: acabrero@ksl.com
×
Most recent Utah stories