Estimated read time: 1-2 minutes
This archived news story is available only for your personal, non-commercial use. Information in the story may be outdated or superseded by additional information. Reading or replaying the story in its archived form does not constitute a republication of the story.
TOOELE COUNTY -- Summer has arrived! Warmer temperatures are back, and that means the wildfire season is upon us. It's a quiet season, so far, with only a handful of fires reported nationally, and fire officials would like to keep it that way.
On a parcel of BLM land in Tooele County, just west of the small town of Rush Valley, a wildfire experiment that took place Wednesday. It was a prescribed burn of about 100 acres.
"This has a dual purpose: for habitat improvement, but also lessening the risk of catastrophic wildfire," BLM fire effects monitor Erin Darboven explained.
The key to preventing that so-called catastrophic wildfire is to set small, controllable fires like this. The idea in this area is to thin out the number of Juniper trees in hopes of slowing down a wildfire if one does start.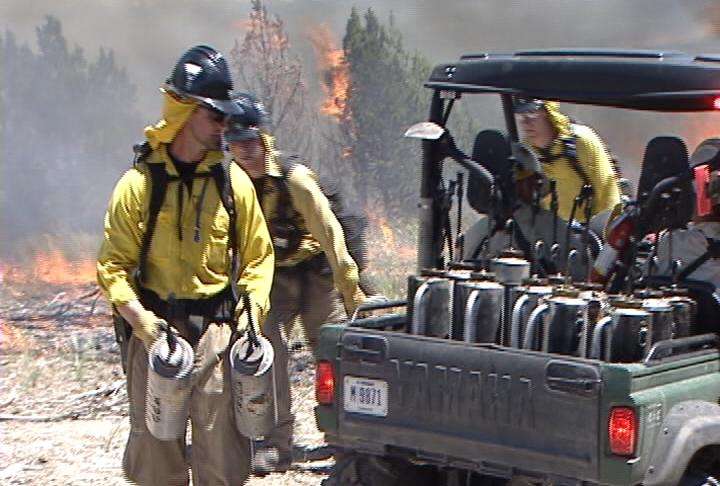 "If that fire hits this fuel break, or area where there's not as many, it lessens its ability to carry, and also enable our forces to come in," Darboven said.
Fires in dense tree stands burn very hot, scorch the land, ruins habitat and exposes the land to erosion. With a combination of heavy equipment and prescribed burns, the goal is to help Mother Nature rebalance.
"It benefits not only us, from a safety standpoint, but also ecologically you're benefiting the rangelands and wildlife," said BLM spokeswoman Teresa Rigby.
These prescribed burns also help reduce the extremely flammable cheatgrass and underbrush, which can propel a fire in seconds.
The BLM has several projects like this going and has learned that the strategy works. "So, it's very encouraging. It's working. We're psyched!" Darboven said.
Nationally, there are only 10 active wildfires burning as of Wednesday evening. Year to date, 345 fires have been reported.
E-mail: kmccord@ksl.com
×
Related links
Most recent Utah stories