Estimated read time: 2-3 minutes
This archived news story is available only for your personal, non-commercial use. Information in the story may be outdated or superseded by additional information. Reading or replaying the story in its archived form does not constitute a republication of the story.
Salt Lake City -- BYU Basketball fans are very familiar with Jeff Teague. The sophomore point guard out of Wake Forest scored 30 points against the Cougars leading the Demon Deacons to a 94-87 victory at the Marriott Center.
"That was a very good game against BYU," Teague remembers. "Crazy Environment, I loved it."
Teague averaged 18.8 assists and 3.5 assists per game last year and shot 44 percent from 3 point range. Jeff says he has no reservations about being drafted by the Jazz even with the knowledge that he will have to be a backup to Deron Williams.
Related:
"It's a great opportunity; he's an all-star point guard, an Olympian. I would love to learn from him. When you get in this league, everybody was a great player in college; everybody was a go-to player. So you have to come here and work and I'll work to get my opportunity and when I get it I plan to take full advantage of it."
Jazz personnel director Walt Perrin says that point guard is the deepest position in the draft "by far". That makes the chances of the Jazz drafting a talented backup for Deron Williams much higher.
"Because of the uncertainty of free agency this year, with us, we could have a lot of needs," Perrin says. "So, we have to look at who we think is the best available player."
The Jazz also continue to workout local college stars. Today was a chance for Utah Valley guard Ryan Toolson to impress the Jazz.
"I always thought I could play with the top athletes in the country so right now is the best time to do it," Toolson said after the workout.
Toolson is the nephew of Danny Ainge and the cousin of former BYU and NBA Player Andy Toolson. He averaged 23.8 points a game his senior year at Utah Valley and made headlines across the country after scoring 63 points against Chicago State on January 29th.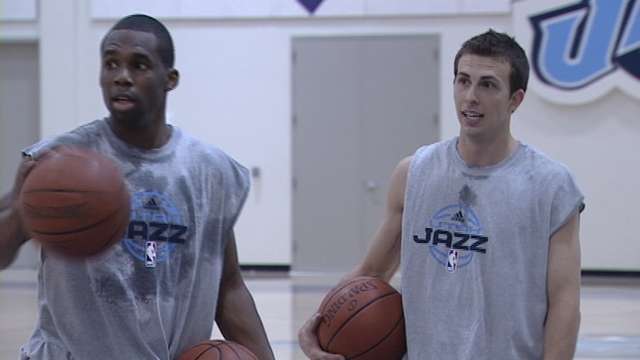 "People have heard about me but they haven't seen me play," said Toolson. "The chances of me getting drafted are slim, maybe I can sneak into the bottom of the 2nd round. But if not then I will probably try to get picked up as a free agent in the summer."
Toolson still stays in touch with former teammate and Jazzman Ronnie Price who has given him plenty of advice through the draft process.
"He told me go in thinking your the best player because if you don't you're not. That's helped in every single workout because a skinny, small white guy is a dime a dozen."
The Jazz also worked out Patrick Beverly (BC Dnipro/Arkansas), Dominic James (Marquette), Jermaine Taylor (Central Florida) and Jodie Meeks (Kentucky).
You can learn more about them and other draft prospects on KSL's 2009 Utah Jazz Draft Coverage page.
E-mail: jjensen@ksl.com
×
Most recent Utah stories