Estimated read time: 3-4 minutes
This archived news story is available only for your personal, non-commercial use. Information in the story may be outdated or superseded by additional information. Reading or replaying the story in its archived form does not constitute a republication of the story.
SALT LAKE CITY -- Federal agencies busted two dozen people in what they're calling the largest investigation ever of artifacts taken from public and Native American land. The defendants are accused of being part of a network that was not selling, but stealing artifacts.
The artifacts came from the Four Corners region. The area is a treasure trove of significant Native American archeology dating back many centuries. Over the years, scientists estimate the majority of artifacts from the region have been looted, pillaged and sold for profit.
On Wednesday, federal officials announced a crackdown. After two and a half years of investigating, federal agents arrested 23 people early Wednesday morning; a federal grand jury has indicted 24.
"The suspects are excavators, dealers and collectors. They were arrested and indicted as part a two-year investigation, code named 'Cerberus Action,'" explained U.S. Deputy Attorney General David Ogden. The code name comes from Greek mythology. Cerebus is a multi-headed dog who guards Hades' underworld.
The defendants began making their appearances in a Moab court on Wednesday. A federal magistrate judge was transported to Moab just to handle the cases.
Among those federal authorities say they arrested: David Lacy, the brother of San Juan County Sheriff Mike Lacy; and James and Jeanne Redd, who have previously been charged by federal authorities with desecrating Anasazi graves.
Another indicted, Harold Lyman, was recently inducted into the Utah Tourism Hall of Fame for his work at the Blanding Visitors Center. [CLICK HERE to see a list of the defendants]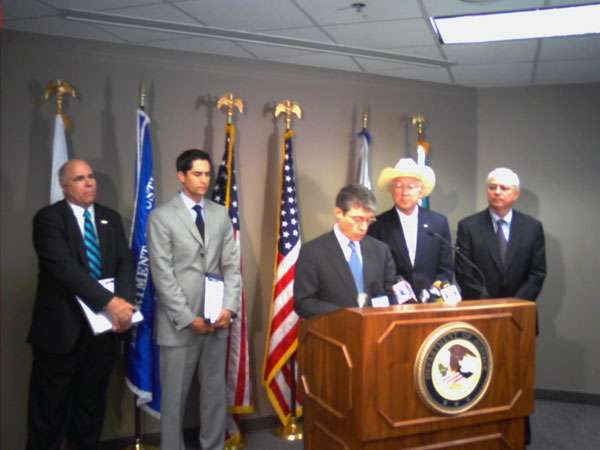 Spotlighting the case, both the U.S. Secretary of the Interior and the head of the agency overseeing Indian Affairs joined the announcement, warning those who steal tribal artifacts.
"[We] will track you down and will bring you to justice if you violate these laws," said Secretary of the Interior Ken Salazar.
Larry Echo Hawk, Assistant Secretary of the Interior for Indian Affairs, said, "I think I could say, on behalf of Native Americans, that these articles are really priceless. You can't put a dollar figure on it." Asst. Secretary of the Interior for Indian Affairs
According to court documents, an inside source working with the FBI secretly taped, with both audio and video, the alleged looters and bought, at the direction of the government, 256 artifacts worth more than $335,000
"The illegal network is a very close knit entity," FBI Special Agent Patrick Brosnan wrote in the affidavit. "Individuals who deal in stolen archaeological objects are usually very careful to disguise the site of origin."
Local Native American leaders condemned the thefts and said they hoped prosecutors would be more thorough this time. Utah Indian Affairs Director Forrest Cuch said he felt the Redds were never prosecuted fully the last time they were charged.
"They just let them off the hook, slapped their hands," he said.
Cuch said the artifacts are sacred to Native Americans. "I think Indian people will be celebrating this and they will be very happy that the U.S. Government is enforcing its repatriation and antiquities laws. This is something the tribes appreciate very much," he said.
If convicted, those indicted face one to 10 years in prison.
------
Story compiled with contributions from John Daley and Ben Winslow.
×
Photos
Related links
Most recent Utah stories