Estimated read time: 4-5 minutes
This archived news story is available only for your personal, non-commercial use. Information in the story may be outdated or superseded by additional information. Reading or replaying the story in its archived form does not constitute a republication of the story.
SALT LAKE CITY -- As summer arrives, teenagers are eager for more free time and a chance to earn money on a summer job. But statistics show summer is the most dangerous time for teens on the job and on the roads.
Highway dangers
Out on the highways, the 101 days between Memorial Day and Labor Day are the deadliest season of the year for teens. And on the job, they're more likely to get hurt than their adult co-workers.
Speeds on the highways pick up as the weather warms. AAA warns parents that inexperienced teen drivers may forget that driving is a complex task that requires focus and practice.
Rolayne Fairclough of AAA Utah said, "Sometimes a little bit of overconfidence, mix it with speed and you can have some real problems."
Teens have more time, parents fewer controls. Teen highway deaths rise in May and peak in July and August. Car crashes are the leading cause of injury and death for teens ages 15 to 20.
AAA advises teens to buckle up, ignore the cell phone and watch the speed.
"Make sure they don't load their car with a bunch of other teenagers. Boy, that can really increase the chances of a crash," Fairclough said.
Teens at work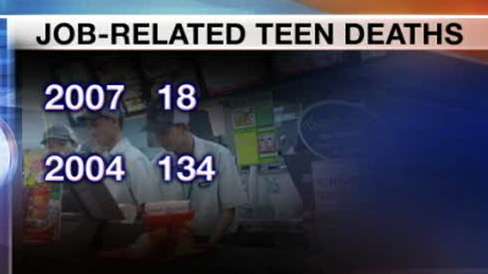 Teens on the job are twice as likely to get hurt as adults. In 2007, 38 youth under 18 died from work-related injuries nationwide. That's down from 134 fatalities in 2004.
So, Utah launched a Youth Worker Summer Safety Campaign.
Jerry Parkstone, OSHA consultation support specialist of the Utah Labor Commission said, "A lot of the times the youth have not received enough training from their employers. They're doing jobs they are not allowed to do, working with equipment they are not allowed to work with."
Accidents can include car crashes, machinery accidents, and slips and falls. The state office of occupational safety put out pamphlets, one for parents and one for teens, so they can talk about job safety, unsafe workplaces and workers' rights.
"The best thing that parents can do is talk to their children about what types of hazards they may come into in the workplace," Parkstone said.
Find a link to those guides on this page.
AAA's 10 deadly teen mistakes and how to avoid them
Risk taking - Know that it can happen to you. Car crashes are the leading cause of injury and death for people ages 15 to 20. And it's not just about you: Crashes affect pedestrians, passengers, and other drivers, as well as their families. You don't want to do something you'll regret the rest of your life.
Unbuckled - Use a safety belt and insist that all your passengers do so as well. About two-thirds of teens killed in vehicle crashes were not wearing safety belts. Wearing a seat belt reduces your chances of being hurt or killed in a crash by 45 percent.
Speed - Stick to the speed limit. One-third of teen fatalities involve speeding. Obeying the speed limit reduces the severity of a crash you can't avoid.
Rowdy riders - Don't load up your car with friends. Adding one teen passenger to a vehicle increases a 16- or 17-year-old driver's crash risk by about 50 percent. With two or more teen passengers, the crash risk increases fivefold.
Cell phones - Focus on driving. Save the phone calls, text messaging, and other gadgets for after the driving is done. Talking on a cell phone while driving can double reaction time.
CD player - Turn the music off while learning to drive. Research shows that adjusting the radio is the most common distraction for drivers between the ages of 16 and driving and channel-surfing don't mix.
Late night cruising - Don't drive late at night. Teen crash rates at night (9 p.m. to 6 a.m.) are twice as high as daytime rates. Obey parental curfews.
DUI - Stay sober. Of 16- to 17-year-old drivers killed in crashes, one in six would have been considered legally intoxicated by adult standards.
Peer pressure - Make good choices and don't be afraid to "speak up." Before you get in a car with a friend, ask: Is this a person you trust? Is he in the right frame of mind to drive safely? Are you prepared to speak up if he drives dangerously?
Overconfidence - Inexperience and overconfidence can lead to crashes when new drivers encounter unfamiliar or unexpected situations. Parents should supervise and monitor their teen drivers - even after they get their license.
E-mail: jboal@ksl.com
×
Related links
Most recent Utah stories