Estimated read time: 2-3 minutes
This archived news story is available only for your personal, non-commercial use. Information in the story may be outdated or superseded by additional information. Reading or replaying the story in its archived form does not constitute a republication of the story.
KEARNS -- After the worst outbreak of cryptosporidium two years ago, Utah's local health departments are not about to let it happen again. Salt Lake County's successful "Crypto Man" campaign virtually eliminated the problem last year, but the county worries about this season.
At the Kearns Oquirrh Park Fitness Center Monday, the Salt Lake Valley Health Department (SLVHD) launched its 2009 crusade to make sure people don't end up with uncontrollable diarrhea this summer.
In 2007, Utah had the worst outbreak of cryptosporidium in the country. "It was horrible. We had almost 1,900 cases in the state and almost 700 just in Salt Lake County," said Teresa Gray, SLVHD Water Quality bureau manager.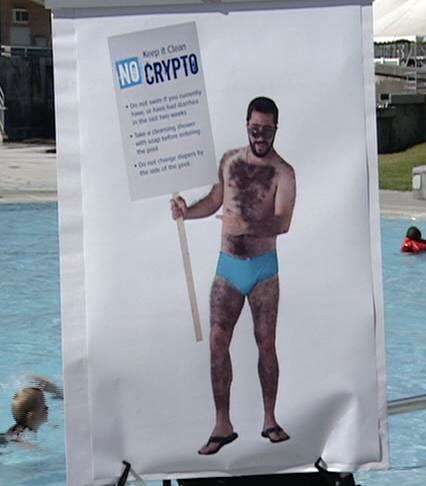 Once in a swimming pool, the parasite is resistant to normal chlorination and can make a lot of people very sick very quickly.
"Crypto Man" is back on TV. The humorous spots, developed by Salt Lake County, are now being used by the Centers Disease Control and Prevention as part of a national campaign.
Large cutouts of "Crypto Man" will be on display at public pools throughout Salt Lake Country this summer.
"Last year, people were cautious. My biggest concern is that people don't take those same actions this year," Gray said.
The actions the health department suggests you take include:
Don't swim if you're sick
Shower before getting into the pool
Don't change diapers at poolside
The rules have not changed. Expecting crypto, if you have it, to simply wash away in the pool will not work. In fact, it won't be allowed.
"If a member of the public was not willing to comply with those rules, a pool could remove them and could call upon the health department or even law enforcement to remove an individual if they needed to," said SLVHD director Gary Edwards.
There were no reported cases of crypto last year, and pool operators hope this season is a repeat performance.
E-mail: eyeates@ksl.com
×
Most recent Utah stories